Advertisement

Almost one year after a tsunami-like wall of water swept away homes, villages, people, cattle and agriculture fields in Champassak and Attapeu provinces of Lao PDR the government has reportedly been handed a report into the tragedy which lays the blame firmly at the feet of the project builders. Dirt was used instead of cement in the dams construction, the report allegedly says.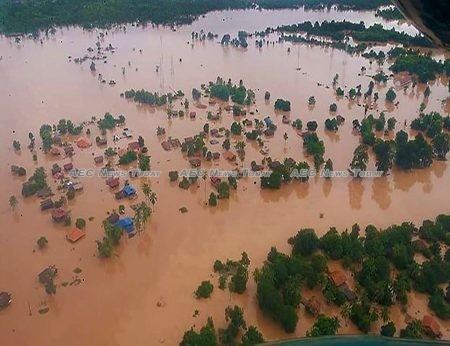 Radio Free Asia's (RFAs) Lao Service reported last weekend that a Xe Pian Xe Namnoy (PNPC) hydropower project official speaking on condition of anonymity had told it that "it was built with soil. That was the cause of the collapse. It couldn't handle that massive amount of water".
The broadcaster says its informant told it that the Lao government had been provided the report in March, but to-date its contents have not been made public.
Singphet Bounsavattiphanh, vice chairman of the Lao government inspection agency confirmed to RFA that the government had received the report and its recommendations  as claimed.
It had not been released publicly yet, he said, because "they (the government) are in the process of negotiating with the South Korean government about what information should or should not be released to the public", he said.
Being built by Korean construction conglomerate SK Engineering and Construction (SK E&C), on July 23 last year saddle dam D collapsed sending some five billion cubic meters of water cascading on those living below it with almost no warning.
Impossible to verify Lao gov. figures
Described as Laos' worst disaster in decades, the collapse of the Xe-Pian Xe-Namnoy saddle dam complex was said to have happened just hours after a crack in the dam was found.
While civil society and anecdotal evidence suggest that some 800 people were killed in the tragedy, the Lao government has steadfastly refused to confirm any more than 43 deaths. The lack of a free and independent media, or any resident foreign correspondents in Lao, makes independent confirmation of government figures impossible. Local media report what they are told to report.
Despite vowing in the wake of the dams collapse to pursue a thorough investigation into its failure, the Lao government has come under considerable criticism over its lack of transparency.
Last October AEC News Today reported on revelations by South Korean newspaper The Hankyoreh, which claimed SK E&C "attempted to earn excessive profits with changes to the format and design" of the dam contributing to its collapse. (See: Laos dam collapse: bombshell accusations, few answers (video) *updated).
Citing internal SKEC documents that it said were obtained from a South Korean lawmaker, the paper reported that an estimated $19 million in cost-cutting saw "the heights of the collapsed dam and other auxiliary dams handled by SK E&C were an average of 6.5 metres (21 foot) lower than in the basic design diagrams included in the document".
The publication also pointed out that South Korean ODA (overseas development assistance) had been allocated to the PNPC) hydropower project's construction, claiming that such funds had been provided without a National Assembly budget review.
That report came in the wake of one several months earlier by the Korea Joongang Daily which reported that one of PNPC's member companies, Korea Western Power, knew the dam was faulty as early as July 20, as the top of the dam had sunk 11 centimetres (4.3 inches).
Following the dam's collapse independent examination found that the site of the dam was geologically unsuitable, while the team investigating the cause of the July 2018  collapse recommended that all saddle dams at the hydropower site be built with concrete.
Currently, a new 400-meter (1,312 foot)-long saddle dam, (saddle dam D #2) is under construction a little more than one kilometre (o.62 miles) away from the collapsed dam. The new construction will be built with concrete and anchored at a depth of at least 10 meters into the ground, said the PNPC official.
Update: The story was last updated at 1215 local time. The feature image was replaced
Feature photo International Federation of Red Cross and Red Crescent Societies
Related:
Laos Dam Collapse Blamed on Substandard Construction (Radio Free Asia)
Collapsed Lao dam 'was built on a sinkhole' (Asia Times)
Laos Dam Failure Exposes Cracks in a Secretive Government's Agenda (The New York Times)
The following two tabs change content below.

Stella-maris graduated with a Bachelor of Arts, Education from Ebonyi State University, Nigeria in 2005.
Between November 2010 and February 2012 she was a staff writer at Daylight Online, Nigeria writing on health, fashion, and relationships. From 2010 – 2017 she worked as a freelance screen writer for 'Nollywood', Nigeria.
She joined AEC News Today in December 2016.

Latest posts by Stella-maris Ewudolu (see all)