Advertisement

Cambodia Prime Minister Hun Sen has moved quickly to head-off anti-Chinese sentiment in the wake of the country's worst-ever construction accident, ordering an inquiry into the building's collapse and inspections of all other construction projects in progress. Some though say the probe doesn't go far enough.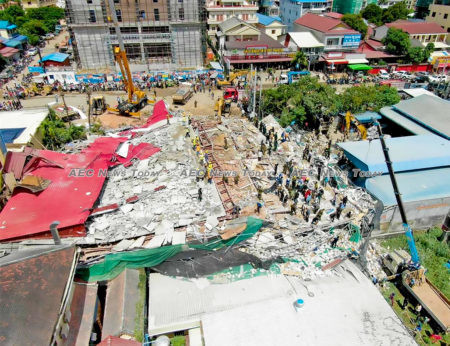 In the early hours of Saturday (June 22) a Chinese-owned building under construction collapsed without warning killing 28 workers, four of whom were women, and injuring a further 26. Up to 60 people were believed to be sleeping in the building at the time.
Three Chinese nationals involved in the building's construction, along with the Cambodian owner of the land, have been charged with involuntary manslaughter and causing bodily harm.
While local media reports said the developer of the collapsed building had added two additional floors to the structure beyond that on the engineering plans, a rescued construction worker with experience working in Thailand said the construction method was wrong.  "I have never seen any multi-story building being constructed using metal frameworks instead of concrete", he reportedly said.
Vowing that any official responsible for allowing the building to be constructed without permission will be found, Prime Minister Hun, said the inquiry will find out "what led this to happen".
Claiming that the tragedy was a lesson the kingdom would learn from, Mr Hun said, "we should not fan the flame of a tiny issue into a raging fire that could damage relations [with China] and the attractive environment for investors. Those who committed a crime will be brought to justice", he said, adding "all illegal constructions from now on will have to be stopped".
All Sihanoukville building sites to be inspected
In addition to announcing a probe into any malfeasance or corruption by local officials, Mr Hun also flagged concerns over the quality of other construction projects in Sihanoukville, 230 kilometres west of the capital Phnom Penh.
Chinese investment in Sihanoukville in recent years has seen the former quaint seaside tourist destination rapidly transformed into a centre of multi-million dollar condominiums, hotels, and casinos, primarily catering to Chinese nationals.
In the past two years almost 6,000 building projects valued at more than $11 billion have been approved nationally, with some 30,000 new condominium units alone expected to come online this year.
While privately some involved in the Cambodia real estate and property market say that they are concerned that the level of technical oversight and compliance on some projects may not be as stringent as it should be, none that AEC News Today spoke to were willing to be quoted.
While government oversight and enforcement of laws and regulations may have been less stringent than desirable, the arrogant defiance to officialdom by some Chinese developers is also well documented.
In the case of the collapsed building former Governor Yun said provincial officials had twice ordered the developer to cease work. He refused on both occasions.
Last month Sihanoukville authorities were forced to take a court official to Koh Rong Somlem after the Chinese owner of an allegedly polluting casino refused to shut down, despite multiple orders to do so (See: Environmentalist to seek court help over illegal, sewage-spewing Chinese casino (video) *updated).
Special construction task force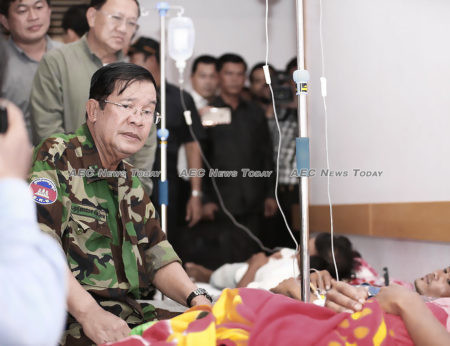 In an attempt to restore confidence in development projects Prime Minister Hun ordered a special task force established to "investigate all buildings in the province currently under construction".
To be chaired by Chea Sophara, Minister of Land Management and Urban Planning and Construction (LMUPC), Mr Hun said "the committee must employ real technical officials with the ability to assess buildings under construction and stop those that do not have permission. Such an incident must not be allowed to happen again", he said.
Weeding out the shonky developers might be a bigger job than the Prime Minister thinks. In the 2016 World Bank Enterprise Cambodia Country Report 86.8 per cent of 363 firms said that they had to pay a bribe in order to obtain a construction permit.
In March, Prime Minister Hun blamed rolling electricity shortages on low levels of water in the country's hydropower dams and increased electricity demand brought on by a 700 per cent year-on-year (YoY) increase in construction in the first two months of 2019. Any question as to the safety of construction could seriously affect the condominium sales market, already under pressure from over-supply.
Inquiry doesn't go far enough
While Cambodia's civil society has welcomed the investigation "provided it is transparent and people are held accountable", for others it doesn't go far enough.
In its latest video highlighting low levels of governance and compliance in Sihanoukville, environmental defenders Mother Nature ask why Chinese development has been allowed to take place in contravention of Cambodia's constitution and the Land Law
Standing in front of a National Committee of Cambodia's Coastal Management and Development (NCCCMD) sign prohibiting construction closer than 100 metres of the high tide mark, the campaigner alleges some developments are as close as 16 metres. He then lists five projects currently under development that appear to breach the law.
Describing Sihanoukville as having gone from home to some of the world's nicest beaches to a hotbed of raw sewage, gambling, and garbage, the Mother Nature campaigner asks Mr Chea to deal with the encroaching developments with the same zeal he previously used to evict squatters from the same section of beach.
Over the past several months Mother Nature has doggedly pursued developers discharging raw sewage into the water in and around Sihanoukville, criticising government officials for their lack of action.
Claiming that "greed has seen local officials allow development in Sihanoukville to go unchecked by laws and regulations", Alex Gonzalez Davidson, co-founder of Mother Nature, told AEC News Today via WhattsApp Messenger that he "would not be at all surprised if other illegally-built constructions also collapsed in the near future".
"If the Prime Minister wants to instil confidence in the quality of the high-rise being thrown up left, right, and centre all around Sihanoukville he needs to ensure that all of the laws relating to development are observed and not just the ones relating to issuing permits and approvals", Mr Gonzalez Davidson said.
According to Cambodia's Ministry of Labour and Vocational Training (MLVT) some 200 Cambodian workers were killed and a further 2,711 injured in 25,206 workplace accidents reported last year. Attempts by AEC News Today to contact Mr Chea were unsuccessful.
Feature video Mother Nature Cambodia
Related:
Death toll rises to 28 in Sihanoukville building collapse (ThmeyThmey)
Spotlight turns on legal loophole following building collapse in Cambodian beach city (ThmeyThmey)
Sihanoukville rescue operations end, inquiry set to begin (The Phnom Penh Post)
The following two tabs change content below.

John is an Australian national with more than 40 years experience as a journalist, photographer, videographer, and copy editor.
He has spent extensive periods of time working in Africa and throughout Southeast Asia, with stints in the Middle East, the USA, and England.
He has covered major world events including Operation Desert Shield/ Storm, the 1991 pillage in Zaire, the 1994 Rwanda genocide, the 1999 East Timor independence unrest, the 2004 Asian tsunami, and the 2009, 2010, and 2014 Bangkok political protests.
In 1995 he was a Walkley Award finalist, the highest awards in Australian journalism, for his coverage of the 1995 Zaire (now Democratic Republic of Congo) Ebola outbreak.
Prior to AEC News Today he was the deputy editor and Thailand and Greater Mekong Sub-region editor for The Establishment Post, predecessor of Asean Today.
In the mid-80s and early 90s he owned JLF Promotions, the largest above and below the line marketing and PR firm servicing the high-technology industry in Australia. It was sold in 1995.

Latest posts by John Le Fevre (see all)