Advertisement

It doesn't matter whether you need some help going down, or some tips on getting it up, the place to be in September is Bangkok when Intermat Asean will again take place over three days.
Billed as the regions largest construction and infrastructure show, Intermat Asean will feature more than 300 exhibitors, including seven national pavilions. For those whose interest lie in the mining industry, where the toys (and price tags) are really really big, an outdoor demonstration area will allow those interested to see some big pieces of machinery go through their paces.
Intermat director, Isabelle Alfano, said the success of last year's show and the continuing rapid growth of private and public sector construction projects in the region meant it was logical to host an event where the region's professionals could gather, exchange knowledge, and see some of the latest industry offerings.
Pointing to forecasts of construction sector growth of 7.5 per cent per year through to 2021 in Singapore, Malaysia, Indonesia, the Philippines, Thailand, and Vietnam, versus a global average of 3 per cent over the the same time period, Ms Alfano said Thailand's convention facilities, affordable, easy access for CLMV countries, and ambitious infrastructure project climate made it the logical host again for this year.
To be held in conjunction with the Thai Construction Association, and Thai Concrete Association, Intermat Asean will also feature a a separate Concrete Asia offering for those purely interested in the construction side, with 200 exhibitors.
Ms Alfano said last years Concrete Asia attracted some 4,000 visitors, 600 of who came from 31 countries other than the host, while some 950 of Intermat Asean 2017's visitors came from 43 different countries. More than 90 per cent of attendees to both of last year's shows were involved in the decision making process, from specifying needs and requirements to signing off on purchases and acquisitions, she said.
Describing the two shows as the only ones in the region that bring all sectors of the concrete and construction together in one place, Ms Alfano said Intermat Asean 2018 will feature the latest on everything from the newest recycling equipment through to tunnel boring machines, plus components and spare parts.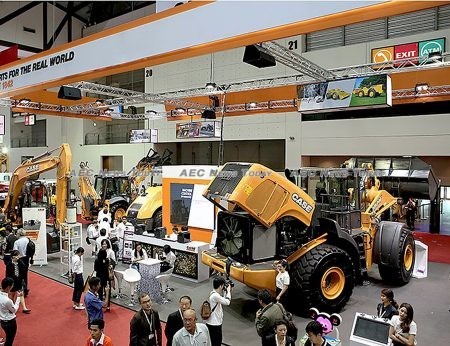 Of the seven national pavilions Ms Alfano said the Chinese one will be the largest, with other large representations expected for the Japan, South Korea, and Singapore pavilions, in addition to those representing German, European, United Kingdom and India suppliers and contractors.
In addition to the big pieces of equipment and machinery, a lecture series will also run in parallel, with suppliers and industry expects discussing the latest trends, techniques, and industry findings.
Emphasising that Intermat Asean 2018 and Concrete Asia 2018 were aimed at promoting trade and knowledge exchange, Ms Alfano said organisers were again offering a free business matching programme, with last year's seeing more than 200 introductions organised.
In addition, a hosted buyers event will be held, while for those in a hurry and specific needs escorted tours and pre-set appointments with exhibitors can also be organised.
To make it easier for attendees Ms Alfano said the exhibition will feature five clusters of expertise — earthmoving and demolition; roads, minerals industry and foundations; buildings; and lifting, handling, and transportation.
Intermet Asean 2018 and Concrete Asia 2018 will be held at Impact Muang Thong Thani Exhibition and Convention Centre between September 6 thru 8.
Feature image supplied
Related:
The following two tabs change content below.

John is an Australian national with more than 40 years experience as a journalist, photographer, videographer, and copy editor.
He has spent extensive periods of time working in Africa and throughout Southeast Asia, with stints in the Middle East, the USA, and England.
He has covered major world events including Operation Desert Shield/ Storm, the 1991 pillage in Zaire, the 1994 Rwanda genocide, the 1999 East Timor independence unrest, the 2004 Asian tsunami, and the 2009, 2010, and 2014 Bangkok political protests.
In 1995 he was a Walkley Award finalist, the highest awards in Australian journalism, for his coverage of the 1995 Zaire (now Democratic Republic of Congo) Ebola outbreak.
Prior to AEC News Today he was the deputy editor and Thailand and Greater Mekong Sub-region editor for The Establishment Post, predecessor of Asean Today.
In the mid-80s and early 90s he owned JLF Promotions, the largest above and below the line marketing and PR firm servicing the high-technology industry in Australia. It was sold in 1995.

Latest posts by John Le Fevre (see all)