Advertisement

Imagine what it would feel like to never have to be fazed about toilet paper — or the lack thereof — again.
Whether you call it an 'ass hose', 'butt spray', 'butt bomber', 'bum blaster', or 'water gun', millions of people around the world are revolutionising their toilet escapades with a 'bidet'-type experience.
The above approximately five minute-long agonising, yet hysterical film by Saigon-based Soul Catcher Productions portrays how the 'bum gun' stands faithful and tall over its porcelain throne.
A man comfortably seated on the toilet bowl is enjoying the euphoric feeling of having discharged his bowels. With eyes shut he reaches for the tissue holder to unroll some pieces, but he draws a blank. Nope! Definitely not the right hole. Now, extremely soberly, he searches more intensely.
As disappointment sets in he glances around: right, then left. His eyes light upon every item in view with the hope of finding paper to wipe his derrière. At this point he sees a number of documents carefully arranged in a plastic envelope laying against the window pane; he grabs them and flips through them, but to no avail.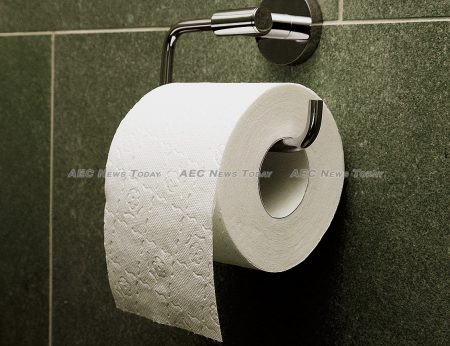 At the point of tears, with all other alternative appearing exhausted, he resorts to calling a friend: "Where are you? Help me!"
"I'm walking the dog", his friend replies, sending afterwards a photo of he and his dog sticking their tongues out their mouths.
The man comes to the terrifying realisation that soon he will probably be walking out through the door with his ass still smeared with faeces… a situation anyone who frequently uses public toilets can no doubt relate to.
With perspiration running down his forehead he tries another option: a trash bin on the floor. He pokes the dangling lid hoping to find something helpful. Empty!
Opening the door to his stall he spies the holy grail. A hand towel roll with a long, dangling stream of white, pristine tissue. The squeak of a door opening sends him retreating behind the safety of his stall door, the sound of water splashing as what sounds like heavy duty cleaning is carried out.
Hearing the door open and close and the sound of retreating footsteps, he launches himself out of his stall, his pants caught around his ankles, at the hand towel dispenser, only to find it now bereft of the prized tissue. As the door begins to open he launches himself against that, unknowingly rejecting his saviour in the process — a cleaner going about her rounds, replacing toilet supplies, such as the tissue paper he desperately seeks.
The man collapses hopelessly to the floor, the palm of his hand falling in front of his eyes. Here lies a message: It's All in Our Hands. The clip then goes on to show the man doing a presentation for the design of a bum gun' to enthusiastic applause from his colleagues.
Produced by a group of young independent Vietnamese film-makers It's All in Our Hands is the product of the Ho Chi Minh City (HCMC)  '48-hour film project 2018 Vietnam competition, which saw competitors assigned a random selection of genre that included a specified character, line, and prop. The film needed to be completed within two days.
For their catchy storyline that left viewers with mixed feelings the young film-makers received the best director award from the audience, as well as a nomination for the best screenplay, and the best use of a line.
As odd as the name 'bum gun' may sound, they are indispensable for cleaning the bum, toilet bowl, or even the entire bathroom throughout Asia.
Regarded as much more hygienic than using toilet paper to smear and wipe, 'bum guns' leave no remnants or odour, and require no trees to be cut down to meet demand. Think of it as a spa for your bum.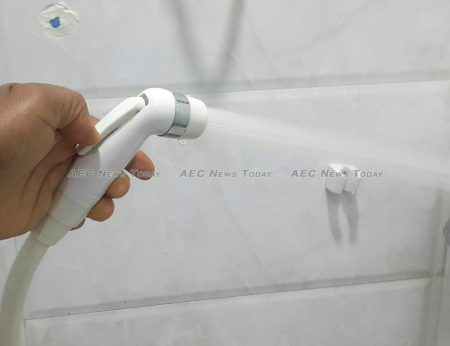 Believed to have been originally created by a Thai living in the USA who adapted a vegetable washer, 'bum guns' with pride next to the toilets of Asia, and range from basic models such as the one in the photo on the right, to more deluxe, fancier looking models.
Awkward and daunting for first-time users who might expect a slow drip of water, they are often taken aback by a full-strength jet of water shooting out of a limescale encrusted hose.
The experience can be invigorating, to say the least, if you are not expecting it, which is why old hands recommend a test squirt first, before aiming it at any soft body parts.
Regardless of how handy and efficient it is to clean with water, you might still find yourself in need of toilet paper though, to dry your bum.
Feature video Soul Catcher Production
Related:
The following two tabs change content below.

Stella-maris graduated with a Bachelor of Arts, Education from Ebonyi State University, Nigeria in 2005.
Between November 2010 and February 2012 she was a staff writer at Daylight Online, Nigeria writing on health, fashion, and relationships. From 2010 – 2017 she worked as a freelance screen writer for 'Nollywood', Nigeria.
She joined AEC News Today in December 2016.

Latest posts by Stella-maris Ewudolu (see all)