Welcome to the Thailand morning news roundup by AEC News Today, your one stop for Thailand news on matters of governance and policies affecting Asean business communities.
Media efforts to justify junta's harassment of Dhammakaya
Over the past three weeks, right-wing media have been demonising Wat Dhammakaya and justifying the junta's crackdown by linking the sect to the red-shirt movement. An expert points out that the longer the process continues, the harder it will be to find a peaceful end.
– Prachatai English
Thailand to spend $11.6 billion on airport expansion over next 10 years
Thailand's military government plans to spend about 406 billion baht ($11.59 billion) on airport development nationwide over the next 10 years to handle increasing passengers, a senior official said on Monday.
– Reuters
Top 10 listed property companies see their combined sales revenue take a dip in 2016
THE TOP 10 property firms listed on the Stock Exchange of Thailand have reported combined revenue of Bt215.7 billion for 2016, down 2.83 per cent from the previous year, after sales in the final quarter of last year were lower than their estimates.
– The Nation
Rethinking Thailand 4.0 to get it into gear
Most people have likely heard the term "Thailand 4.0" continually since the Prayut Chan-o-cha government began promoting it.
– Bangkok Post
Advertisement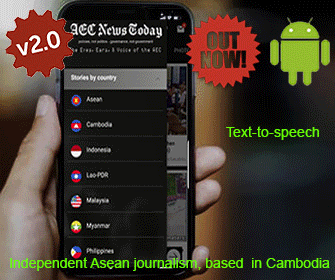 Media chiefs barred from regulatory council: Kanit
HEADS of professional media organisations will be prohibited from sitting on a controversial council to be set up under a new law aimed at regulating the mass media.
– The Nation
Fears for Russian tourist missing on notorious 'death island'
MYSTERY surrounds the disappearance of a Russian tourist on an idyllic Thai island where two Brits were brutally murdered.
– News.com.au
Central bank announces new PromptPay's online money transfer fee rates
The Bank of Thailand has announced the rate of electronic money transfer through PromptPay system between legal entities.
– Thai PBS
DHL's expansion into Thailand's booming e-commerce market to benefit 2.7 million SMEs
DHL eCommerce, a division of the Deutsche Post DHL Group (DPDHL Group), is capitalizing on the booming Thai e-commerce market expected to more than triple in size to EUR 3.6 billion between now and 2020 by enhancing its nationwide coverage with next day delivery in remote areas and extending pick-up service to small e-commerce merchants to meet its growing customer demands.
– SMB World
Unemployment edging up, NESDB says
ALTHOUGH unemployment was still quite low in 2016 at 0.99 per cent, it has been relentlessly climbing, with rates of 0.8 per cent in 2013 and 0.9 per cent in 2014 and 2015.
– The Nation
Malaysia, Thailand eye bilateral trade boost
Malaysia and Thailand are determined to see bilateral trade achieve the US$30 billion (RM133 billion) target by next year, with border trade set to play greater role in the coming years.
– Malay Mail Online
The Cards and Payments Industry in Thailand Research Report and Opportunities to 2021
Albany, New York, March 06, 2017: Market Research Hub has recently announced the addition of a new report to it broad database titled as "The Cards and Payments Industry in Thailand: Emerging Trends and Opportunities to 2021".
– OpenPR
Thai leasing company breaks 1 billion baht barrier
Thai digital finance firm Group Lease Public Company Limited (GL) has posted net profits of 324.4 million baht in the three-month period to the end of 2016.
– Asset Finance International
Dusit Thani extends lease on prime Bangkok city-centre plot
Dusit Thani Public Company Limited, one of Thailand's foremost hotel and property development companies, announced it has signed an agreement with the Crown Property Bureau to continue leasing the plot of land at the intersection of Silom Road and Rama 4, and on which the Dusit Thani Bangkok is built.
– Travel Daily News
Thailand's top three supplement and functional food trends as beauty bubble begins to burst: Infographic
Healthy ageing, natural supplements and personalised nutrition: these are three emerging trends in Thailand offering ample opportunities for industry growth.
– Food Navigator-Asia
Milestone Aviation Provides Seven Helicopters to Thai Aviation Services
Milestone Aviation Group Limited ("Milestone"), the global leader in helicopter leasing, announced today that it has leased two Sikorsky S-92 and five Sikorsky S-76D helicopters to be operated by Thai Aviation Services Co., Ltd. ("TAS").
– PR Newswire
Russian woman slapped with $28 fine for feeding Thailand's 'ecologically-protected' fish
Olga Smirnova, a Russian citizen, who was arrested in Thailand for feeding fish in an ecologically-protected area, has been sentenced to a fine of 1,000 Thai bahts (roughly $28), head of the Russian embassy's consular department in Thailand, Vladimir Sosnov, told TASS on Monday.
– Tass
Millennials, LCCs prop up Chiang Mai's rising popularity: C9
With the rise of LCCs and millennial preferences, passenger volume into Chiang Mai grew 13 per cent to hit 4.6 million arrivals in 2016, trailing only Phuket among Thailand's provincial airports last year, according to C9 Hotelworks' Chiang Mai Hotel Market 2017 report.
– TTG Asia
Dusit outlines plans for "unprecedented growth"
Dusit International is embarking on what is being described as the most significant period of expansion in the company's history.
– Travel Daily Media
Advertisement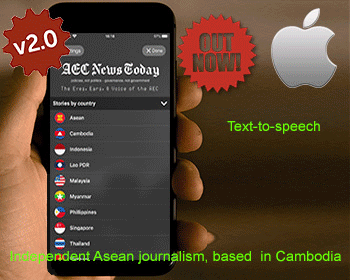 Feature photo: John Le Fevre
The Thailand morning news roundup is published M-F by AEC News Today: Governance, not government; policies not politics.
The following two tabs change content below.

John is an Australian national with more than 40 years experience as a journalist, photographer, videographer, and copy editor.
He has spent extensive periods of time working in Africa and throughout Southeast Asia, with stints in the Middle East, the USA, and England.
He has covered major world events including Operation Desert Shield/ Storm, the 1991 pillage in Zaire, the 1994 Rwanda genocide, the 1999 East Timor independence unrest, the 2004 Asian tsunami, and the 2009, 2010, and 2014 Bangkok political protests.
In 1995 he was a Walkley Award finalist, the highest awards in Australian journalism, for his coverage of the 1995 Zaire (now Democratic Republic of Congo) Ebola outbreak.
Prior to AEC News Today he was the deputy editor and Thailand and Greater Mekong Sub-region editor for The Establishment Post, predecessor of Asean Today.
In the mid-80s and early 90s he owned JLF Promotions, the largest above and below the line marketing and PR firm servicing the high-technology industry in Australia. It was sold in 1995.

Latest posts by John Le Fevre (see all)