Thailand morning news by AEC News Today is your one stop source for Thailand news on matters of governance and policies.
Russia, Thailand look to strengthen transport, logistics links
The first ever visit to Thailand by a Russian Transport Minister is happening in the backdrop of a rising number of Russian tourists visiting the kingdom.
– RBTH
NACC accuse 13 police officers of corruption over procurement of over 19,000 motorcycles
The Royal Thai Police Office will set up a committee to investigate 13 police officers, including four generals, after the National Anti-Corruption Commission has implicated them of involvement in corruption over the procurement of over 19,000 service motorcycles.
– Thai PBS
Not NACC's duty to look into whether politicians have paid their taxes, sec-gen says
The National Anti-Corruption Commission can at best look into increases in the assets and overall worth of politicians and report to the Revenue Department whether taxes should have been paid on such gains, but not look into whether or not they have actually paid their taxes, NACC secretary-general Sansern Poljiak said on Monday.
– The Nation
Head of Fishery Association faces 14 years in prison for human trafficking
A provincial court in southern Thailand has sentenced six people, including the President of the Kantang Fishing Association (Trang Province), to 14 years in prison for human trafficking.
– Prachatai English

Advertisement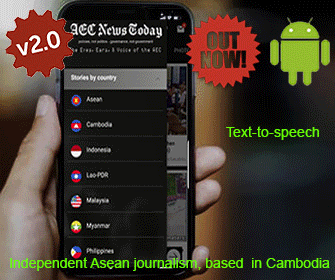 PM calls for overhaul of farming sector
The Prime Minister has called for an overhaul of the nation's farming sector to remedy its long standing issues.
– NNT
Finance Ministry unveils strategy for aging society
The Ministry of Finance and related agencies are preparing a strategy to accommodate Thailand's transition into an aging society, citing income, housing and medical treatment system as the major issues that authorities need to tackle.
– NNT

Used car market expected to surge amid new tax code
The country's used car market is expected to grow by 10% this year to 2.2 million units thanks to higher price tags for new cars.
– Bangkok Post
Deputy Transport Minister inspects Laem Chabang container transport center
The Deputy Minister of Transport has affirmed that a center for rail transport of cargo containers will begin operation this year after inspecting the project at Laem Chabang Harbor.
– NNT
Ruangkrai demands Revenue Department to probe General Prawit's one million baht cheque
A legal advisor of the Pheu Thai party on Monday asked the Revenue Department to investigate whether Deputy Prime Minister Prawit Wongsuwan had properly paid income tax for the one million baht in cheque he received nine years ago when he served as the defence minister.
– Thai PBS
Duterte arrives in Thailand for 2-day visit
President Rodrigo Duterte has arrived in Bangkok, Thailand late Monday evening after he wrapped up the second and final day of his visit in Myanmar.
– ABS-CBN

Animal feed businesses lined up for this week's rice auction
The head of the Thai Feed Mill Association has indicated high interest in this week's state rice auction due to the animal feed industry growing 5 percent this year.
– NNT

How Philippine economy can catch up with Thailand
The Philippines needs to rebuild its infrastructure and provide more support for farmers to catch up with its Southeast Asian neighbor, Thailand, a trade envoy said Tuesday.
– ABS-CBN
Thailand: Investigate Army Killing of Teenage Activist
Thai authorities should immediately and transparently investigate the shooting death of a teenage ethnic Lahu activist who had been detained by the military, Human Rights Watch said today.
– Human Rights Watch
Malaysia says intercepted North Korean arms shipment to Thailand in 2011
Malaysia intercepted and returned a shipment of North Korean military communications equipment sent to Thailand in 2011, the country's police chief said on Monday, amid growing scrutiny of the southeast Asian nation's dealings with North Korea.
– Channel NewsAsia
Thailand 32nd happiest country in the world
Thailand is the 32nd happiest country in the world while Norway ranked first, according to a report released at the United Nations to mark the International Day of Happiness on Monday.
– Bangkok Post
Vets to give update on Ormsin the turtle
A veterinary team from Chulalongkorn University on Tuesday will hold a press conference to discuss the condition of Ormsin, the sea turtle in a coma since last weekend after undergoing surgery to remove hundreds of coins from its stomach.
– The Nation
Myanmar and Thailand launches 'Two Countries – One Destination' campaign
Campaign to bring added value to tourist's experiences
Indian travellers have more to experience as a new campaign combining both Thailand and Myanmar during one holiday woo leisure travellers worldwide.
– Media India Group
This is the cheapest month of the year to fly to Thailand
Thailand is pretty much a must-go at some point in your life. Whether it's for the rite-of-passage backpacking trip around South East Asia pre or post university, for a honeymoon trip of a lifetime, or for a couple of weeks in sunny paradise while it's raining back home, it suits an array of needs.
– Cosmopolitan
Advertisement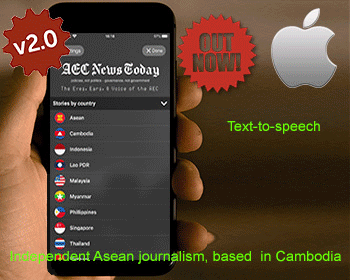 This pilot was once known as Miss Thailand
March 21, 2017 People
There are 10 women captains flying AirAsia's fleet in Thailand, and Captain Chananporn Rosja must be the most famous of them all.
– Star 2
Feature photo: John Le Fevre
Find our previous morning news feature photos in the AEC News Today Morning News Feature Photos gallery where you will find a pictorial display of daily life throughout the Asean Economic Community (AEC).
Introducing The AEC News Today Mobile App
In an era of hectic schedules where time is precious, the AEC News Today mobile app enables you to stay up to date with the latest Asean news on governance and policy issues affecting the Asean Community while you are on the move and whenever you have a few minutes to spare.
See full details, including our AEC News Today Mobile App Privacy Statement here: Stay up to Date With The AEC News Today Mobile App
Download the AEC News Today mobile app from Google play or the App stores by clicking the icons below.
Thailand morning news is published M-F by AEC News Today: Governance, not government; policies not politics.
The following two tabs change content below.

John is an Australian national with more than 40 years experience as a journalist, photographer, videographer, and copy editor.
He has spent extensive periods of time working in Africa and throughout Southeast Asia, with stints in the Middle East, the USA, and England.
He has covered major world events including Operation Desert Shield/ Storm, the 1991 pillage in Zaire, the 1994 Rwanda genocide, the 1999 East Timor independence unrest, the 2004 Asian tsunami, and the 2009, 2010, and 2014 Bangkok political protests.
In 1995 he was a Walkley Award finalist, the highest awards in Australian journalism, for his coverage of the 1995 Zaire (now Democratic Republic of Congo) Ebola outbreak.
Prior to AEC News Today he was the deputy editor and Thailand and Greater Mekong Sub-region editor for The Establishment Post, predecessor of Asean Today.
In the mid-80s and early 90s he owned JLF Promotions, the largest above and below the line marketing and PR firm servicing the high-technology industry in Australia. It was sold in 1995.

Latest posts by John Le Fevre (see all)