Advertisement

A recent survey by global performance management company Nielsen titled 'Discover the 4 Truths About the Rural Area' claims to shatter four long-held myths about the Vietnam rural consumer market.
Rural consumers account for about 68 per cent of Vietnam's 90 million population and improvements in national prosperity are seeing rural consumer purchasing power increase in leaps and bounds, providing a lucrative opportunity for the fast moving consumer goods (FMCG) market.
Representing such a large pool of people, the Vietnam rural consumer market has become an attractive target for domestic and multinational enterprises alike, with all attempting to find the 'magic formulae' that encourages them to spend more.
According to Nielsen, the Vietnam rural consumer market has not yet been fully exploited due to poor comprehension by marketers, and wildly held beliefs based on myths.
The survey found that while access to social media is growing, television reach in rural communities is at saturation point, with more than 90 per cent owning a television at home and 57 per cent of those connected to ten or more television channels.
While Vietnam internet penetration remains relatively low, internet and digital platforms usage is on the rise with the 'MythBuster' survey finding 90 per cent of Vietnam rural consumers own a mobile phone, with 50 per cent of those owning a smartphone.
24 Million Rural Vietnamese Online
The study found that there are almost 24 million consumers in rural Vietnam using the internet, a figure on par to the number of users living in urban areas.
With 22.5 million Facebook users in rural areas compared with 23.5 million in urban areas, and the importance of social media as 'one of the key platforms' for gathering and disseminating information, keeping in touch with family and friends, as well as doing online shopping becomes clear.
According Nguyen Anh Dzung, director and head of retail measurement services at Nielsen Vietnam, the result of being exposed to more to media channels has seen a number of common traits emerge in relation to the attitudes and behaviour of Vietnam rural consumers.
Among these he says is, "progressing from self restraint and self sacrifice to stability, wealth accumulation and planning for their kids' future. What is happening in urban Vietnam is similarly occurring with Vietnam rural consumers", he said.
Vietnam FMCGs Grew 12.4% in Q1 2017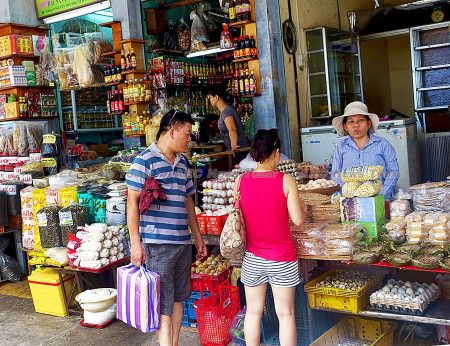 While Vietnam rural consumers have continued to drive impressive growth for many manufacturers in recent years — in Q1 2017 FMCG grew at 12.4 per cent and contributed 51 per cent to total FMCG sales nationwide — the myth persists that Vietnam rural consumers prefer low-priced products over mainstream or premium products.
However, drilling down into price segments to see where the growth actually came, the study found that 40 per cent of the growth was from mainstream products, while 38.5 per cent was generated by premium items.
According to Mr Dzung, "up-trading is not just a desire, but in action. If manufacturers just focus on pushing mainstream products to Vietnam rural consumers they are missing huge, lucrative opportunities."
While urban myth dictates that manufacturers and marketers have less opportunity to push new products to Vietnam rural consumers, the Nielsen study found that strong rural demand for new products — 77 per cent want to try new products and 95 per cent appreciate having a wide range of products to choose from — that new launches in Vietnam rural areas perform better than those done within a store in six key cities in 25 out of 27 FCMG categories.
With some 1.1 million outlets spread across 58 provinces, getting products to each and every retailer has long been a challenge for manufacturers.
According to Mr Dzung "even large manufacturers with extensive sales teams and great resources only service approximately 30 per cent of outlets directly.
The study found that 'if businesses target 400,000 stores in top districts, those stores are highly likely to contribute up to 39 per cent of retail sales. Through proper targeting, achieving maximum sales is not as expensive and resource consuming as some people might think.'
According to Mr Dzung, as the Vietnam rural consumer market "continues to evolve, transform and take centre stage as a key group for businesses, understanding who they really are, where, how and what they are buying and their most effective touch points will be prerequisites for future success".
Related:
The following two tabs change content below.

Stella-maris graduated with a Bachelor of Arts, Education from Ebonyi State University, Nigeria in 2005.
Between November 2010 and February 2012 she was a staff writer at Daylight Online, Nigeria writing on health, fashion, and relationships. From 2010 – 2017 she worked as a freelance screen writer for 'Nollywood', Nigeria.
She joined AEC News Today in December 2016.

Latest posts by Stella-maris Ewudolu (see all)