Advertisement

The recent controversy generated by the Dengvaxia vaccine scandal in the Philippines will see many people returning to more traditional methods to ward off the debilitating effects of mosquito-borne disease, with mosquito coils and bed nets at the forefront of protection in mosquito-endemic areas.
However, the very mosquito coil that millions of people throughout Asean rely on for protection on a daily basis could slowly be killing them, according to a recent article in The Conversation by Cameron Webb, a clinical lecturer and principal hospital scientist, at the University of Sydney (UoS).
Mr Webb says that while there is generally consensus that insect coils may be useful in preventing mosquito borne disease, there is 'growing concern about the adverse health impacts associated with the burning of mosquito coils and sticks indoors'.
According to one 2007 study in Taiwan published in the Journal of Epidemiology, 'burning one mosquito coil releases the same amount of particulate matter (PM2.5) as burning 75-137 cigarettes, while the emission of formaldehyde from burning one coil can be as high as that released from burning 51 cigarettes.
Increased lung cancer, asthma risks
The study, which examined the relationship between mosquito coil smoke and lung cancer, found that mosquito coil smoke exposure was more frequent in lung cancer patients than in the control group (38.1 per cent vs.17.8 per cent).
While acknowledging that the number of lung patient candidates in the study was limited, the authors warned that 'higher frequency of burning mosquito coils increases the risk of lung cancer, and exposure to mosquito coils increases the lung cancer risk of cigarette smokers'.
Long-term exposure to mosquito coil smoke might also induce asthma and a persistent wheeze in children, the authors warned, listing octachlorodipropyl ether (S-2, S-421), hydrogen chloride, formaldehyde, and bis(chloromethyl) ether (an extremely potent lung carcinogen) as among the byproducts produced from burning mosquito coils.
Such noxious chemicals must be great at preventing mosquito-borne pathogens, which the World Health Organisation (WHO) says kills more than half a million people a year, right? Wrong. Mr Webb says 'there are no studies that actually prove this'.
One 2005 review of 15 controlled studies of insecticide-containing mosquito coils by the Journal of Travel Medicine published by Oxford Academic in 2006 found no evidence that burning insecticide-containing mosquito coils prevents the acquisition of malaria.
According to the authors 'the studies tested the efficacy of coils in achieving mosquito bite reduction (14 studies), mosquito repellence (seven), deterrence (five), "knockdown" effect (five), and percentage mosquito mortality (seven)'.
No proof mosquito coils prevent Malaria/ Dengue
The review concluded that 'there is no evidence that burning insecticide-containing mosquito coils prevents malaria acquisition'.
Acknowledging that there was consistent evidence that burning coils inhibits nuisance biting by various mosquito species, the review cautioned that 'the potential harmful effects of mosquito coil smoke on human users should be investigated'.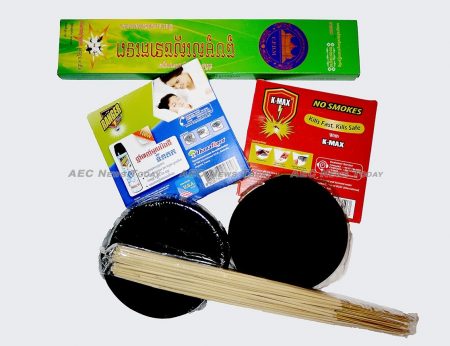 The situation is similar with dengue. One 2006 study in Thailand found that homes that burnt mosquito coils were significantly more likely to be infested with adult Ae. aegypti, the dengue carrying species of mosquito, than those that did not.
While Mr Webb notes that mosquito coils and similar products must be registered and clearly labelled in Australia, which prevents products containing particularly nasty chemicals from entering the country. Such stringent regulations, where they exist, are poorly enforced in many parts of Asean.
AEC News Today went to the local market and purchased three different brands of mosquito coils. Only one product had  usage and safety instructions and ingredients listed in Khmer-, but not English-language, while the other two products had instructions in English-language only, including local 'Customer Service' telephone numbers for Thailand, Cambodia, and Lao PDR, indicating how far widespread the two brands are.
Cambodia's Law on the Management of Quality and Safety of Products and Services requires: 'Manufacturers and service providers shall be required to indicate on their products, goods, and services in Khmer language the ingredients, composition, users' guidelines, manufacturing date, and expiration date along with other requirements which guarantee the safety and health of consumers prior to their commercialization.'
Lax enforcement means it is not particularly difficult to find non-complying products throughout Cambodia on products as diverse as packaged biscuits, floor cleaners, or farm pesticides, putting the uneducated and poor the most at risk from misuse, as in some other Asean countries.
While mosquito coils may repel mosquitoes, the WHO recommends cleaning up mosquito breeding grounds (inside and out), effective larval control, long-lasting insecticidal nets (LLINs), protective clothing, and the use of DEET-based (N-Diethyl-meta-toluamide) mosquito repellent for all people at risk of malaria or dengue.
Feature video Inside Edition
Feature photo John Le Fevre
Related: 
John Le Fevre in Phnom Penh contributed to this story