Philippines morning news by AEC News Today is your one stop source for Philippines news on matters of governance and policies affecting Asean business communities.

Philippines: PHA's $10m private placement; Cemex, Sinoma ink pact
Premiere Horizon Alliance Corp (PHA) is looking to raise $10 million in the private placement offer for its West Palawan Premiere Development Corp (WPP) project, while Cemex Holdings Philippines Inc and Sinoma Energy Conservation Ltd have signed a deal to build and operate a waste-heat-to-energy (WHTE) facility.
— Deal Street Asia
Palace order needed to put up tariff system for rice
Following the Duterte economic team's decision to lift import curbs on milled rice come June 30, Malacañang is readying an executive order that will help the domestic rice market transition to a tariff system for inbound grains, according to an official of the National Economic and Development Authority.
— Inquirer.Net
Philippines' Duterte threatens press over critical coverage
Philippine President Rodrigo Duterte on Thursday described two major media outlets as "sons of whores" and warned them of karmic repercussions for their critical coverage of his deadly drug war.
— Asia One
Phl lists 14 projects for Japan funding
Fourteen infrastructure projects have been lined up for possible Japanese financing, three of which – collectively valued at $8.82 billion – will be prioritized for funding and implementation in the near term, Socioeconomic Planning Secretary Ernesto Pernia said yesterday.
— Phil Star
Advertisement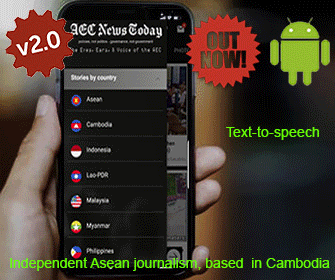 Senators frown on Duterte pardon for 19 cops in mayor's killing
Senators on Thursday frowned upon President Duterte's insistence on granting absolute pardon to policemen charged with the murder of Albuera, Leyte, Mayor Rolando Espinosa Sr., saying it could give law enforcers the notion that they had blanket authority to kill drug suspects.
— Inquirer.Net
Duterte makes pitch for smoking ban
President Duterte on Wednesday vowed to implement a smoking ban in the country as he shared his health woes, including his need to use an oxygen machine because of his oxygenation problem from years of smoking.
— Inquirer.Net
Phl to raise SCS construction during Beijing meet
The Philippines will raise China's construction of military facilities in the South China Sea during the bilateral consultation mechanism meeting in May, Foreign Affairs Secretary Enrique Manalo said yesterday.
— Phil Star
Duterte impeachment 'not hopeless,' says Magdalo lawmaker
An impeachment complaint against President Rodrigo Duterte is not a hopeless case, even as his allies make up the majority in Congress, one of its proponents said Friday.
— ABS-CBN
Duterte assailed for 'defeatist' stand vs China
Magdalo Rep. Gary Alejano on Thursday filed supplementary charges to his impeachment complaint against President rodrigo Duterte, accusing him of taking a "defeatist stance" by doing nothing to challenge China's activities on Benham Rise and in the West Philippine Sea.
— Inquirer.Net
Philippines to hunt tax evaders to boost revenue, finance secretary says
The Philippines will target tax evaders as it seeks to raise revenue to finance its infrastructure plans, the finance secretary said.
— The Business Times
Jails full of drug addicts, Ecija rehab center has few
The country's largest drug rehabilitation center, envisioned to house up to 10,000 addicts, is treating only a few patients even as many city jails are bursting at the seams with the influx of at least 25,000 users amid the administration's war on drugs.
— Inquirer.Net
2 Navy warships from Benham Rise dock at Poro Point
Two large Navy warships docked at Poro Point pier Thursday after conducting patrols at Benham Rise for several days to check on the presence of Chinese vessels in the area. The two are BRP Ramon Alcaraz (FF-16), PN frigate, and BRP Sultan Kudarat (PS-22).
— Update Philippines
Implement RH law, EU urges Phl
The European Union (EU) is calling for the full implementation of the Responsible Parenthood and Reproductive Health (RH) Act of 2012, which is only possible if the Supreme Court's temporary restraining order (TRO) on the law is lifted.
— Phil Star
Sugar workers lobby against high fructose corn syrup importation
Members of five sugar workers' federations in Negros Occidental, and agrarian reform beneficiaries on Thursday asked lawmakers to investigate the importation of high fructose corn syrup, saying it would hurt the local industry.
— ABS-CBN
Tax reform in focus amid high PHL hopes
THE GOVERNMENT'S planned tax reforms have come into sharper focus after Fitch Ratings, Inc. on Wednesday tagged them as a linchpin in the Philippines' bid to achieve faster, more inclusive growth in the next six years.
— Business World Online
UnionBank to launch foreign currency fund
ABOITIZ-LED Union Bank of the Philippines (UnionBank) will soon launch a foreign currency-denominated investment products focused on family wealth management solutions after the lender inked a collaboration with global wealth and asset manager Lombard Odier.
— Business World Online
Asian community rattled by Trump immigration policies
The debate surrounding US President Donald Trump's immigration crackdown has focused almost entirely on the Latino community, leaving other groups affected – notably Asians – largely out of the discourse, according to experts.
— Manila Bulletin
Palace: Int'l court can't interfere in PH affairs
Malacañang sees no reason for the International Criminal Court (ICC) to intervene in issues concerning the Philippines, particularly on the country's fight against illegal drugs.
— The Manila Times
Advertisement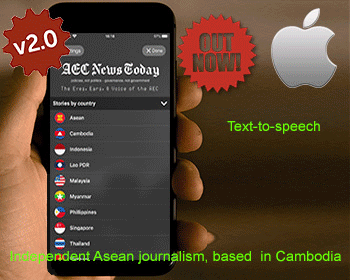 Fitch affirms PH investment grade
Debt watcher Fitch Ratings affirmed the Philippines' "BBB-" minimum investment grade rating, as well as its positive outlook, but warned it will be watching the impact of the government's anti-illegal drugs program on the overall economy.
— The Manila Times
Feature photo International Labour Organization
Find our previous morning news feature photos in the AEC News Today Morning News Feature Photos gallery where you will find a pictorial display of daily life throughout the Asean Economic Community (AEC).
Introducing The AEC News Today Mobile App
In an era of hectic schedules where time is precious, the AEC News Today mobile app enables you to stay up to date with the latest Asean news on governance and policy issues affecting the Asean Community while you are on the move and whenever you have a few minutes to spare.
See full details, including our AEC News Today Mobile App Privacy Statement here: Stay up to Date With The AEC News Today Mobile App
Download the AEC News Today mobile app from Google play or the App stores by clicking the icons below.
Philippines morning news roundup is published M-F by AEC News Today: Governance, not government; policies not politics.
The following two tabs change content below.

Stella-maris graduated with a Bachelor of Arts, Education from Ebonyi State University, Nigeria in 2005.
Between November 2010 and February 2012 she was a staff writer at Daylight Online, Nigeria writing on health, fashion, and relationships. From 2010 – 2017 she worked as a freelance screen writer for 'Nollywood', Nigeria.
She joined AEC News Today in December 2016.

Latest posts by Stella-maris Ewudolu (see all)