Myanmar morning news by AEC News Today is your one stop source for Myanmar news on matters of governance and policies affecting Asean business communities.

Duterte's ASEAN chairmanship gets Myanmar, Thailand backing: DFA
Myanmar and Thailand have both guaranteed full support of President Rodrigo Duterte's 2017 chairmanship of the Association of Southeast Asian Nations (ASEAN) during his official visits to the 2 countries, acting Foreign Affairs Secretary Enrique Manalo said Wednesday.
— ABS-CBN
UK Co to provide services for oil and gas sector
A UK company will help Myanmar develop its local marine, oil and natural gas sector.
— Myanmar Times
Two-lane highway to link Thailand and Dawei SEZ
Visits to Myanmar led by the deputy prime minister of Thailand, followed by a visit from the minister of transportation of Thailand who met with Vice President Henry Van Thio in February, resulted in an agreement to continue the Dawei SEZ project within a month.
— Myanmar Times
Battle heats up for key seats in coming by-election
As political parties approach the final leg of their campaigning for the April 1 by-election, a handful of the 19 seats up for grabs are expected to be close contests.
— Myanmar Times
Advertisement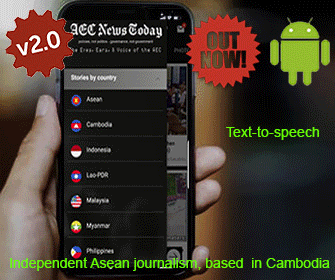 Myanmar's foreign trade volume tops US$26 billion
Myanmar's foreign trade volume has reached US$26billion, a figure that is larger than that of the same period of last year, the Ministry of Commerce reported.
— Eleven
High chickpea demand from China and India
High demand for chickpea in China and India has caused the price of peas, beans and pulses to rise in Myanmar, according to traders.
— Myanmar Times
Yangon Relaxes Truck Use Restrictions
Restrictions on the use of container trucks in Yangon are being relaxed, according to the regional Ministry of Planning and Finance.
— Consult-Myanmar
Myanmar's toxic legacy of large dams
The country's first strategic environmental review provides a chance to demand more from investors and dam builders, but is still being seen as too little, and leading to fierce resistance by marginalised communities.
— Consult-Myanmar
Army chief stresses the need for cooperation to create peace and stability in border areas
Both countries need to cooperate to create peace and stability in border areas, said Senior General Min Aung Hlaing, Commander-in-Chief of the Defence Services, to Hong Liang, the Chinese ambassador to Myanmar, on March 21.
— Eleven
Transport and communication sectors reach US$3billion in foreign investment
The transport and communication sectors have reached more than US$3billion in foreign investment, accounting for 46 percent of total foreign investment, a source at the Directorate of Investment and Company Administration said.
— Eleven
Myanmar praises China for action on rebels
Myanmar's government praised China yesterday for suspending a Chinese bank account used by ethnic rebels fighting Myanmar troops, in a move to prevent potential damage to diplomatic ties.
— The Straits Times
PH, Myanmar strengthen food security cooperation
Philippines and Myanmar governments will strengthen bilateral economic relations, specifically on areas of trade and investment, agro-industry, food security and micro, small and medium enterprises (MSMEs).
— The Manila Times
'It is my job to expand Ireland's footprint in Myanmar'
After a long career in Ireland's Department of Foreign Affairs, Mr Brendan Rogers took up the post of ambassador to Thailand and Myanmar in 2014, presenting his credentials to President U Htin Kyaw in April 2016.
— Frontier Myanmar
'I want my family to eat': children fuel Myanmar's economic boom
Fourteen-year-old San Min Hteik had worked at the steel factory for less than a week when his hand got caught in a machine, a casualty of the economic boom driving more children into Myanmar's factories.
— Frontier Myanmar
Myanmar Luxury Property Hampered by Confusion Over Law on Foreign Buyers
Confusion over a law allowing foreigners to buy condominiums in Myanmar is prolonging a slowdown in its residential property sector, highlighting the challenges of regulatory flux in the frontier market.
— Bloomberg
Grab Singapore enters Myanmar
The leading ride-hailing app in Southeast Asia, Grab, started to test its services in Yangon on March 21, becoming the first international company of its kind to enter Myanmar.
— Eleven
Beach hotels double prices during Thingyan
The rates of hotels during Thingyan holiday went up 50 per cent, as local travelers flocked to beaches, according to an announcement on Jovago.com.mm. The price doubled from advanced bookings, according to the website. The hotels at the beaches and Myeik and Dawei areas are fully booked, said Mr. Frans Mass, managing director of Jovago.com.mm.
— Global New Light Of Myanmar
The disease of 'everything else'
Non-communicable diseases such as diabetes, cancer and alcoholism cause the most death and suffering in Myanmar, but with causes as numerous as they are complex, it requires more than doctors to treat them.
— Frontier Myanmar
Advertisement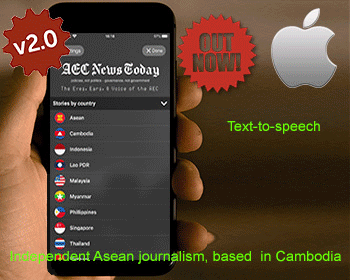 NSCN (K) observes Naga Republic Day in Myanmar
The authority of Naga-Myanmar cease-fire office, Lahe town, NSCN/GPRN observed Republic Day prayer on March 21, according to a press release from the NSCN/GPRN on Wednesday.
— Eastern Mirror
Feature photo: Alex Schwab
Find our previous morning news feature photos in the AEC News Today Morning News Feature Photos gallery where you will find a pictorial display of daily life throughout the Asean Economic Community (AEC).
Introducing The AEC News Today Mobile App
In an era of hectic schedules where time is precious, the AEC News Today mobile app enables you to stay up to date with the latest Asean news on governance and policy issues affecting the Asean Community while you are on the move and whenever you have a few minutes to spare.
See full details, including our AEC News Today Mobile App Privacy Statement here: Stay up to Date With The AEC News Today Mobile App
Download the AEC News Today mobile app from Google play or the App stores by clicking the icons below.
Myanmar morning news is published M-F by AEC News Today: Governance, not government; policies not politics.
The following two tabs change content below.

Stella-maris graduated with a Bachelor of Arts, Education from Ebonyi State University, Nigeria in 2005.
Between November 2010 and February 2012 she was a staff writer at Daylight Online, Nigeria writing on health, fashion, and relationships. From 2010 – 2017 she worked as a freelance screen writer for 'Nollywood', Nigeria.
She joined AEC News Today in December 2016.

Latest posts by Stella-maris Ewudolu (see all)