Welcome to the Lao PDR morning news roundup by AEC News Today, your one stop for Lao PDR news on matters of governance and policies affecting Asean business communities.
China Starts Controversial Lao Rail Project
On Christmas Day last year, work officially started on the China-Laos high-speed railway, a major engineering feat snaking from Kunming, in China's southwestern Yunnan Province, to Vientiane in Laos.
— Asia Sentinel
Laos, Vietnam Discuss Building an Oil Depot and Pipelines
Laos and Vietnam recently discussed a construction project for an oil depot and pipeline connecting Vietnam's Hon La Port to Khammuan Province.
— Lao News Agency
Ministry reduces dry season rice target after farmers produce less
The Ministry of Agriculture and Forestry has set this year's target for dry season rice production lower after the country's rice farmers failed to meet last year's mark.
— Vientiane Times
SEZs driving economic growth in the south
The establishment of Special and Specific Economic Zone (SEZ)s and untapped tourism potential is expected to drive economic growth in Champassak province, a senior official has noted.
— Vientiane Times
Advertisement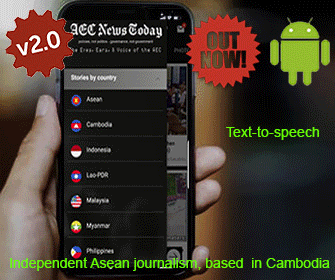 Sepon Contributes over US$1.5 billion to National Revenue
MMG Lane Xang Minerals Limited of Sepon has contributed over US$1.5 billion to the state revenue of Lao PDR since it began operating in Laos.
— Lao News Agency
Vietnam, Laos share experience in management decentralisation
Lao National Assembly Chairwoman Pany Yathotou and Vietnam National Assembly Vice Chairwoman Tong Thi Phong co-chaired the event, which demonstrates the role and duties of the two countries' legislatures in State management.
— VietNamNet Bridge
Three Lao Workers Jailed For Criticizing Government Online Still Held After More Than a Year
Three Lao workers arrested last year for criticizing their government on Facebook while working in Thailand are still in custody with no resolution of their case in sight, prompting calls from friends and human rights groups for their release.
— Radio Free Asia
Vientiane's ODOP Exhibition to Open in Late May
The fourth Vientiane Capital "One District One Product" (ODOP) exhibition will be held between May 27 and Jun 1 at the Lao-ITECC in Vientiane Capital, a press conference was told in Vientiane Capital last week.
— Lao News Agency
Vientianale International Film Festival 2017 to be held late this month
The annual Vientianale International Film Festival will fall on Mar 22-26 with an exciting and diverse programme of 40 feature and short films from 25 countries, including award-winning productions.
— Lao News Agency
Vientiane authorities mull inspection of Nong Taler
Vientiane authorities plan to manage and develop the Nong Taler in Naxaithong district to be a tourism attraction after some sections of shoreline were illegally taken by local residents.
— Vientiane Times
Vancouver man found dead in Laos
A Vancouver man with family ties to the B.C. Interior is being remembered online after he was found dead in Laos.
— Lake Country Calendar
New Satellite Office Opened in Vientiane
A new satellite office of the University of the Ryukyus, Okinawa Province, Japan was officially opened at the Setthathirath Hospital in Vientiane Capital on March 3.
— Lao News Agency
Feature photo: Albert Dezetter
The Lao morning news roundup is published M-F by AEC News Today: Governance, not government; policies not politics.
The following two tabs change content below.
Latest posts by Jose Rodriguez T. Señase (see all)