Lao morning news by AEC News Today is your one stop source for Lao PDR news on matters of governance and policies affecting Asean business communities.
Tunnel boring for Laos-China railway expected in coming weeks
The boring of tunnels for the Laos-China railway is expected to begin in the next few weeks following a groundbreaking ceremony to kick off construction of the project in December last year.
— Vientiane Times
Vietnam's Vung Ang Port vital for shipment of Lao goods
Vietnam has announced it will continue to create favourable conditions for the transit of Lao goods via Vung Ang Port in central Vietnam's Ha Tinh province.
— Vientiane Times
Indonesia Opens Free Language Training for Lao nationals
The Embassy of Indonesia in Vientiane has opened a free course for Lao nationals who are interested in learning Bahasa Indonesia, the language also spoken in Malaysia, Brunei and Singapore.
— Lao News Agency
Lao, Thai Models Present Fashion Designs in Vientiane
Top Lao and Thai models presented fashion designs during a Vientiane WOW Fashion Week 2017 at the Landmark Riverside Hotel in Vientiane Capital on March 18, 2017.
— Lao News Agency
Advertisement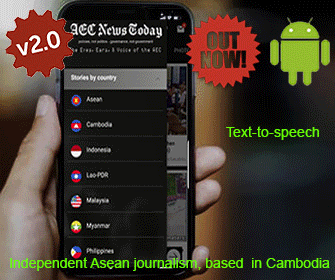 Lao Sat-1 to transmit Thailand's Lamkhong TV channel
Thailand's Kanboon Sompraingarm is set to broadcast its Lamkhong TV channel through the Lao Sat-1 satellite, after reaching a year-long agreement with operator Lao Asia Pacific Satellite Company.
— Rapid TV News
Thailand To Urge Laos To Return Self-Exiled, Ex-Red Shirt Leader
Thailand plans to call on Laos to return a former Red Shirt leader so that he could be brought back to justice, China's Xinhua news agency reported.
— Malaysian Digest
Laos, Malaysia keen to expand cooperative relations
Laos and Malaysia are keen to expand bilateral cooperation particularly in areas relating to investment, banking, finance, transportation, tourism, education and human resource development for mutual benefit.
— The Nation
Laos calls for UN programmes to match development goals
Laos would like United Nations (UN) cooperation programmes to comply with the priorities laid out in the development plans of the countries it is assisting, to help them achieve the Sustainable Development Goals (SDG).
— Vientiane Times
Weekend storms batter parts of Laos
Sporadic tropical storms will continue to lash many parts of Laos from now until the middle of May and the public should be on the alert at all times.
— Vientiane Times
Japan's SME Lessons Shared to Local Lawmakers
Representatives of the National Assembly, provincial councils, the Japanese Embassy and the Japan International Cooperation Agency (JICA) met in Vientiane on Mach 17 to discuss the strengthening of small and medium enterprises.
— Lao News Agency
Luang Namtha Shuts Down Aroma Banana Farms
Luang Namtha authorities have permanently suspended plantations of aroma bananas, a foreign strain, after evidence of hazardous proven chemical substances being used in banana farms.
— Lao News Agency
Feature photo Deutschland
Find our previous morning news feature photos in the AEC News Today Morning News Feature Photos gallery where you will find a pictorial display of daily life throughout the Asean Economic Community (AEC).
Introducing The AEC News Today Mobile App
In an era of hectic schedules where time is precious, the AEC News Today mobile app enables you to stay up to date with the latest Asean news on governance and policy issues affecting the Asean Community while you are on the move and whenever you have a few minutes to spare.
See full details, including our AEC News Today Mobile App Privacy Statement here: Stay up to Date With The AEC News Today Mobile App
Download the AEC News Today mobile app from Google play or the App stores by clicking the icons below.
Lao morning news is published M-F by AEC News Today: Governance, not government; policies not politics.