Advertisement

While Cambodia-focused media and human rightists have been focusing on the country's slide from democracy a funny thing happened… universal healthcare for all workers in the Cambodia formal employment sector.
The new regulations were formalised in two Prakases (ministerial directives) issued last month by the Ministry of Labor and Vocational Training (MLVT) and extend the National Social Security Fund's (NSSFs) 'Occupational Risk' and 'Health Care' schemes to cover enterprises employing as few as one person, from the previous minimum of eight.
First announced by Cambodia Prime Minister Hun Sen on October 4 at the same time as a US$100 baby bonus, the introduction of universal healthcare for all workers in the Cambodia formal employment sector has thus far gained little attention.
Although the official deadline for registration was December 10 an unofficial amnesty is currently in place — due largely to lack of awareness of the original deadline — until the end of the year, after which those who have failed to register their staff will be subject to penalties when detected.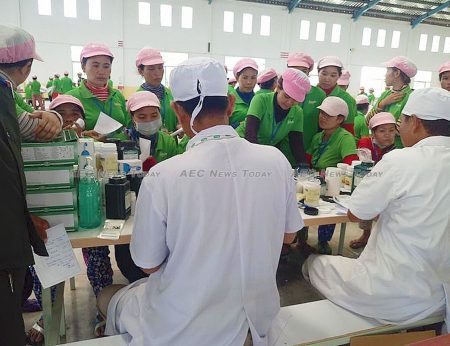 However, while the expansion of universal healthcare to cover all those in the Cambodia formal employment sector is a huge step up for the country's workers, it also somewhat of a double edged sword.
With the expanded scheme set to funnel millions of additional workers into the public health system —  and talk of extending cover to the non-formal employment sector next year and roping in millions more  — many are already questioning what standard of service can be expected; Especially given that the Prime Minister travels to Singapore for his medical treatment and examinations when needed.
Conundrum For Employers
Particularly concerning is the reputation Cambodia's already overstretched, under resourced, and good governance challenged public health system has for turning away holders of the country's Health Equity Fund (HRF), or so-called 'poor card', which theoretically enables the country's poorest to receive free medical care.
For employers, many of who already provide accident and/ or healthcare cover for their staff, the conundrum is whether to accept the compulsory NSSF participation as an additional cost of doing business in Cambodia and maintain private insurance, or reduce staff benefits to the minimum required by law.
The former will likely result in at least a doubling of their current insurance costs, while the latter relegates their staff to having to rely on the service provided from the country's largely dysfunctional public health system, versus that provided by hundreds of private clinics and private hospitals accessible under most employee accident insurance policies.
The move to compulsory universal healthcare for all workers in the Cambodia formal employment sector also promises to have a negative impact on Cambodia's nascent insurance industry, which saw total premium growth drop from 37 per cent in the first half of 2016 to 21 per cent in the same period of this year.
Insurance Premium Growth in Decline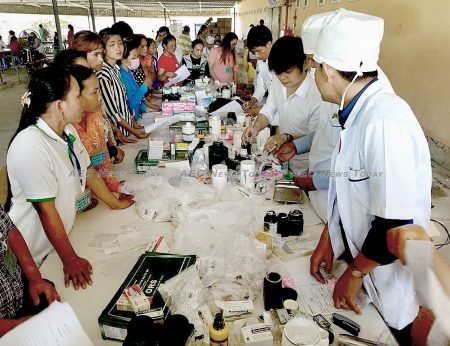 Heavily focused on so-called 'life' (death), health, and accident policies, the life sector last year experienced growth of 113.2 per cent in the first half of the year.
Reporting some $68 million in premiums for the first half of 2017, the Insurance Council of Cambodia (ICC) this year did not provide a breakdown of growth by segment.
Unlike private accident and health insurance policies which base premiums on the age and other risk factors of the insured, NSSF premiums are based on an employees gross monthly salary.
Originally a cost born equally by employer and employee, changes to the law in August at the urging of Prime Minister Hun saw the cost become entirely the employer's responsibility commencing January 1, 2018.
According to NSSF guidelines, Occupational risk cover is calculated at a rate of 0.8 per cent of the worker's gross wage, while the healthcare benefits component is calculated at 2.6 per cent.
The NSSF says more than 3,000 enterprises have so far registered their workers in accordance with the new regulations, with coverage set to commence two months after the first payment is received. Similarly, NSSF cover continues for two months after an employee loses his or her job, or from when the last payment is made.
Business owners can make the monthly payments at any Acleda Bank branch nationwide, or at any of the more than 5,000 Wing money transfer kiosks throughout the country. Premiums are capped at Rl40,800 (about US$10.00) per month, which covers anyone whose monthly salary exceeds Rl 1.2 million (about $300) per month… the tax free income tax threshold for 2018.
The occupational risk component covers workers in the Cambodia formal employment sector for the costs of medical treatment for injuries occurring at the workplace, or while commuting to and from work. Occupational disease is also covered, provided either is notified to the NSSF within 48 hours of occurrence.
Cambodia NSSF Benefits
Cambodian workers in the formal employment sector injured at work and who are enrolled in the NSSF  are eligible for a range of benefits including:
Temporary Disability Benefits: Injured workers are entitled to a daily allowance of up to 70 per cent of his/her daily average wage, and an additional caretaker allowance of up to 50 per cent of the victim's daily average wage if the victim requires warding for more than four days.
Permanent Disability Benefits: A worker who sustains an injury that result in permanent disability of less than 20 per cent is entitled to a one time compensation payment based on the NSSF formulae. Workers who suffer more than a 20 per cent disability as the result of a workplace accident injury will receive a disability pension calculated in accordance with the NSSF formulae.
Caretaker's Allowance: An additional allowance equivalent to 50 per cent of the injured worker's pension is payable where the worker is totally disabled.
Funeral Grant: Rl1 million (about US$250) is payable if the workplace injury results in death.
Survivor's Benefit: A survivors' benefit, calculated according to a formulae that takes into account whether the deceased worker had children, a spouse, and living parents, is also payable.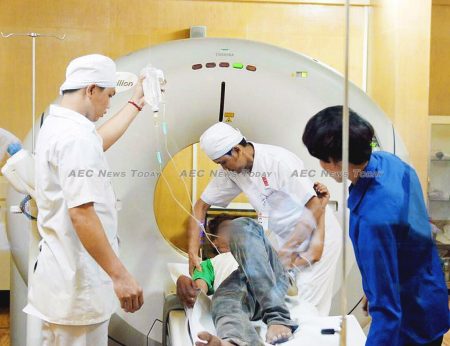 Complimenting the occupational risk component is the health care segment, which is meant to cover the unlimited medical costs of treatment needed by the employee for up to 180 days in any 12 month period, irrespective of whether illness/ injury is workplace related or not.
Services covered include inpatient, outpatient, and emergency medical services, physiotherapy and kinesiatrics, child birth, prenatal, and postnatal services, rehabilitation, and patient referral services. The cost of all x-ray's and scans is also covered, as is the cost of transporting the deceased in the event of death. A small daily allowance while warded is also payable.
Among the 14 services not covered is cosmetic surgery, fertility treatment, organ transplants, dental treatment, coronary and heart surgery, chemotherapy, and 'artificial glow surgery' (Ed: we have no idea).
Overall the benefits provided mimic those contained in commercially available group workplace policies such as those offered by local insurance companies, with the exception that treatment is restricted to public hospitals.
Cambodia Insurance Sector Tight-Lipped
The sudden enactment of the new regulations seems to have caught the Cambodia insurance sector somewhat off-guard. A person who answered the phone at the ICC said she was unaware of the new law. Emailed questions asking how the ICC expects universal healthcare for all workers in the Cambodia formal employment sector will impact the Cambodia insurance sector were not responded to.
Similarly, two of Cambodia's largest insurance companies, Forte Insurance, and Infinity General Insurance, were not particularly communicative on the matter either. Both failed to respond to questions on how the new requirements are likely to impact their business going into 2018.
At French PKMI-Prevoir (Kampuchea) Microlife Insurance (Prevoir), which has built its business on providing tailored micro-insurance policies to cover small work places, the assessment was mixed.
Acknowledging that the scheme will likely have "a major impact" on sales for the next several months, chief operations officer Patrick Maziere said the government's plan for universal healthcare for all workers in the formal employment sector actually compliments the company's existing polices.
"The NSSF provides cover for general illnesses and ailments that are not ordinarily covered by personal accident policies. Some employers will choose to give their staff the extra coverage along with the ability to seek private treatment for accidental injuries that either occur in or out of the workplace, while others wont", he said.
Describing the implementation of universal healthcare for all workers in the formal employment sector as "a very positive achievement for Cambodia", Mr Maziere said "it also presents us with an opportunity to reexamine our products, make adjustments where necessary, and offer policies which focus on what is needed to provide the best coverage at the best price.
However, with both private and the NSSF schemes providing cross-over benefits, such as disability and dismemberment payments, Mr Maziere said people will need to choose which policy they claim under. They could not claim under both for the same injury, he said.
Although aware of the original announcement and subsequent signing of the Prakases last month, Mr Maziere said Prevoir had only been briefed on the details of the scheme by the MLVT late last week.
AEC News Today has submitted a number of question relating to the broadening of universal healthcare to cover all workers in the Cambodia formal employment sector to the NSSF and will update this story if/ when replies are received.
Feature photo Ministry of Health of Cambodia
Related:
Recent changes to the healthcare and insurance plan for Cambodia (Thalias Blog)
PM pledges worker benefits (Phnom Penh Post
Cambodia Legal Update: Employers required to pay the full health care contribution for their workers starting in 2018 (VDB|Loi)
Leakhena Khat in Phnom Penh contributed to this story
The following two tabs change content below.

John is an Australian national with more than 40 years experience as a journalist, photographer, videographer, and copy editor.
He has spent extensive periods of time working in Africa and throughout Southeast Asia, with stints in the Middle East, the USA, and England.
He has covered major world events including Operation Desert Shield/ Storm, the 1991 pillage in Zaire, the 1994 Rwanda genocide, the 1999 East Timor independence unrest, the 2004 Asian tsunami, and the 2009, 2010, and 2014 Bangkok political protests.
In 1995 he was a Walkley Award finalist, the highest awards in Australian journalism, for his coverage of the 1995 Zaire (now Democratic Republic of Congo) Ebola outbreak.
Prior to AEC News Today he was the deputy editor and Thailand and Greater Mekong Sub-region editor for The Establishment Post, predecessor of Asean Today.
In the mid-80s and early 90s he owned JLF Promotions, the largest above and below the line marketing and PR firm servicing the high-technology industry in Australia. It was sold in 1995.

Latest posts by John Le Fevre (see all)