Advertisement

The fledgling Cambodia automotive sector is set to receive a boost with South Korean listed, Lao PDR registered auto manufacturer Kolao Group announcing plans for a $100 million dollar manufacturing facility in Bavet, near the Cambodia-Vietnam border, capable of producing 30,000 trucks and 50,000 motorcycles a year.
The investment will be used to establish the group's own special economic zone (SEZ) comprising two assembly plants and a dry port for imported complete knock-down (CKD) vehicles at a planned 112ha (277 acre) industrial park where it will manufacture its proprietary line of Daehan automobiles, motorcycles, trucks, and pickups.
Lee Jae Hoo, country head of Kolao Group (Cambodia), said the company's decision to increase its level of investment in Cambodia came after studying the market for two years, adding the Cambodia government's Industrial Development Policy (IDP), social stability, and young and abundant labour pool were all contributing factors in the decision. The launch of the Asean Community (AC) last year and the eventual removal of tariff barriers within the region giving the Cambodia plant duty-free access to a combined population of over 600 million was also another key factor, he said.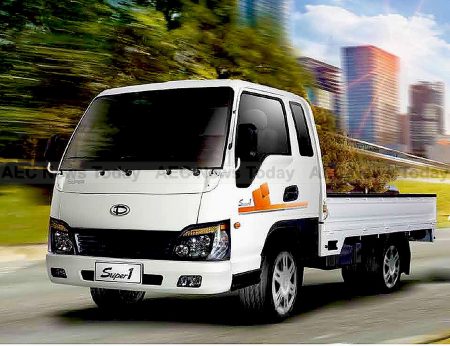 "We will start Daehan car and Daehan motorcycle assembly factories as the first step in September with our initial investment. After that, we will start a full-production factory", Mr Lee said.
Founded by a Lao PDR-based former South Korean used vehicle importer, and registered as a Lao company, Kolao Holdings was incorporated in the Cayman Islands in 2009, and listed on Korea's main stock market, the Kospi, in 2010.
In Lao PDR where it is headquartered Kolao Holdings and is the largest non-state-owned (NSO) company and in 2015 reported an operating profit before tax of $42.682 million. Its name, a combination of Ko(rea) and Lao, is widely known in Lao PDR and Myanmar where it holds the Hyundai Motor and Kia Motors franchises.
In Lao PDR it operates 20 showrooms and a sales network of nearly 350 dealers. In 2015 Daehan was the second best-selling marque in Lao PDR with over 10 per cent market share.
Home-Grown CML Success Story
In Cambodia, where South Korea is the country's second largest source of foreign investment (See: Asean H1 2016 FDI Winners & Losers) with total invested capital of more than $2 billion dollars, the focus has been on Kolao Holdings' country of listing, rather than its country of registration, diminishing the significance of a substantial investment by a home-grown CML (Cambodia, Myanmar, Lao PDR) success story.
The Kolao Group will join South Korean automaker Hyundai who commenced automobile assembly in Cambodia in 2011, who were followed by American automaker Ford in 2012. It is expected that Kolao's entry into the Cambodia market may have a knock-on effect increasing the flow of South Korean investment into the Cambodia automotive sector in particular.
With Bavet, one of the poorest provinces of Cambodia, but strategically located on National Highway One (NH1) leading to Ho Chi Minh City (HCMC), the likely focus for the South Korean listed company is Vietnam, rather than the much smaller Cambodia market.
Cambodia New Car Import Taxes Hit 137.5%
Being locally-built will deliver some advantages though. In April 2016, the Cambodia government increased 'specific tax', a form of excise tax, on automobile imports by up to 65 per cent depending on the vehicle's specifications. This is in addition to 45 per cent regular excise tax, 35 per cent import duty, and 10 per cent value added tax. The revised taxes and and other non-tariff barriers on luxury vehicles now runs at between 122 and 137.5 per cent.
With the cost of new vehicle imports having increased by about 20 per cent as a result, it's not surprising that legal new car and truck imports represent just a fraction of those being introduced to Cambodia roads. According to the Cambodia Automotive Industry Federation (CAIF), who represents authorised vehicle dealers in Cambodia, new cars accounted for just 10 per cent of the estimated 45,000 cars imported last year.
Figures released in March this year by the Cambodia Ministry of Public Works and Transport (MPWT) show that the number of registered vehicles in Cambodia grew by 14 per cent last year, with motorbikes accounting for more than 2.7 million of the country's 3.2 million registered vehicles nationwide.
Related: