Advertisement

Time often has a great way of making a good decisions look even smarter. Such is the case with the Krungthep Kreetha Golf Club. First opened in 1969 in what was then an outlying fringe location of Bangkok, urban growth has seen it evolve to become one of Bangkok's iconic inner city golf courses.
The Krungthep Kreetha course requires precision, patience and good timing – and that is just to get to the first tee.  Significant road works currently underway on Krungthep Kreetha Road to improve peak hour traffic flow make the final stages of the drive to the club 'entertaining' to say the least.
The reward, once you have navigated the potholes, concrete road barriers, and mayhem, is a course that has mellowed and matured into a very enjoyable inner city golf park.
You will still need precision, patience and good timing to navigate the Krungthep Kreetha Golf Club tight fairways, the almost endless water hazards, and the occasional sharp dog-leg turns, but for those of us who do not routinely drive more than 210 metre (230 yard), the 6,158 metre (6,735 yard), par 72 course gives accurate and canny golfers a fighting chance.
Completely redesigned in 1995 by James R. Vaughn the Krungthep Kreetha Golf Club rewards mindful players who are focused on where the ball lands for the next shot.
Along the way you can enjoy the well-maintained garden-like setting, with the various species of plants and trees thoughtfully identified for the botanically-challenged… such as myself.
The park environment is enhanced further by giant water lizards who stroll across the fairways either individually, or occasionally as family groups out on a day's sightseeing.
Refreshments – liquid and other – are very accessible, with plenty of kiosks as you move through the round. There is also  an excellent restaurant at the clubhouse serving a range of tasty Thai dishes.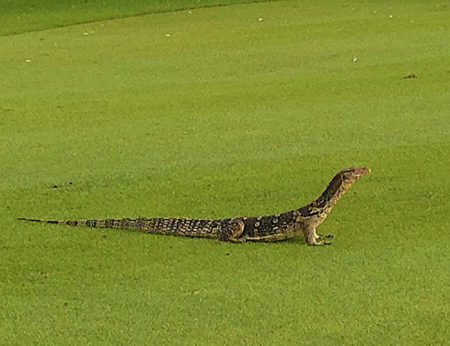 One kiosk which seems to pull you more than others is the one adjacent to the fourth hole tee box.
The beautiful setting for the sizeable island green can lull you into a false sense of well-being, shattered only when you shank the short iron into the serious puddle in front.
When you eventually get there though and look back across the water at the picturesque setting it's hard to believe you are in the centre of a throbbing urban metropolis of some 12 million people.
The Greens Are True – The Caddies Pleasant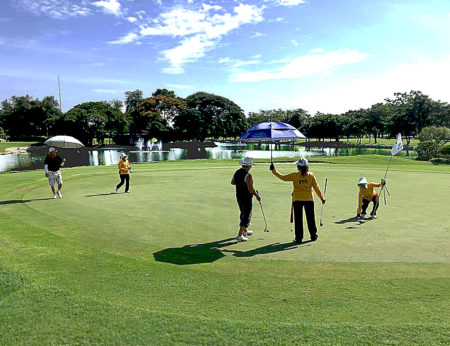 Those who play at Krungthep Kreetha Golf Club will find the greens are true and the caddies pleasant and helpful.  However, be prepared for a few moments when your conversation, both on the course and in the restaurant, is 'lost in translation'.
Most staff do not speak much English so if you do not have a smattering of  Thai you may have to make do with sign language.
One thing that is left to no doubt is the warning off the first tee for those with a slice.  Despite a large sign being erected to explain the consequences of any damage to people or property from offending shots, the dark puncture holes show the desire to hit the ball hard got the better of a number of true enthusiasts!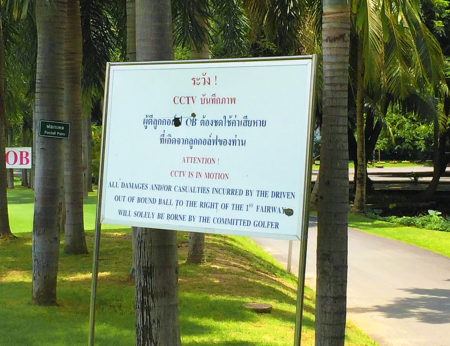 For those without a car the inner city location really pays off as Krungthep Kreetha is quite easy to reach using public transport.  Hop off the skytrain at the Airport Link station Hua Mak and flag down a taxi for what should be a 15 minute ride.
Green Fees at Krungthep Kreetha
Green fees are Bt2,500 bt (US$72) for weekday walk in rates rising to Bt3,500 ($101) for weekends and public holidays.
For those who can play midweek, the 'Sports Day' green fees of Bt1,500 bt ($43) on Tuesday's and Thursday's represent particularly good value. And it's even cheaper if you can persuade a member to take you along.  For the full range of fees and amenities check out the Krungthep Kreetha Golf Club website.
The key aspect of Krungthep Kreetha Golf Club that continues to strike me whenever I think about the course is the huge care and attention it must receive in order to maintain its park-like condition and ambience.
With motorways and intense urban development all around, this is a sinkhole of lush, green tranquility.
For this reason alone it is well worth a round at Krungthep Kreetha Golf Club as either a visitor to Bangkok, or a resident.
Photos: Justin Barnett
Feature photo: Courtesy Krungthep Kreetha Association
Save
Save
Save
Save
Save
The following two tabs change content below.
Justin Barnett
Roving Golf Correspondent
Justin Barnett has lived and worked in Asia for more than 17 years. Best known to his friends as the 'knackered hacker' for reasons which need no further explanation, his passion for golf significantly exceeds his ability.
His relentless pursuit of 'the one' great shot keeps him heading back to the tee box, where he encounters every experience felt by all amateur golfers.
He is fiercely proud that playing golf is not his 'day job', but he continues to seek new ways to bring zen to his game'.
Latest posts by Justin Barnett (see all)