Advertisement

It's not very often that governments anywhere hold press conferences in response to media stories and it's especially the case in Thailand where the international media is largely regarded as little more than annoying foreigners who don't understand the "Thai way" of doing things.
In fact since seizing power in a bloodless coup in May 2014 the ruling junta has had to adopt a thick skin in response to international criticism over a range of issues, not the least being its inflexible zero tolerance to critics of the putsch.
Its decision therefore to hold a full media briefing in response to a report by The Associated Press (AP) a week earlier claiming to have unearthed fresh incidents of slavery, human trafficking, and human rights abuses in the nation's shrimp (prawn) processing industry should rightfully be interpreted as a sign of how aggrieved Thai authorities felt by the story.
Relegated to the bottom of the USA government's three-tiered Trafficking in Persons (TIP) report last year and and again this, Prime Minister Prayut Chan-o-cha promoted abolishing human trafficking including "child labor, prostitution, beggars, and forced labor, especially in the fishing industry", to a national agenda item in early April
Mass graves find spurs human trafficking crackdown
The sudden focus on eradicating human trafficking came in the wake of more than 80 human trafficking camps and mass graves being found in southern Thailand. This came on top of the first AP report highlighting human trafficking and slave labour in the Thailand seafood industry in early March.
In US Supply Chain Tainted by Slave-Caught Fish the AP also revealed the existence of imprisoned migrant fishermen on the Indonesia island of Kobroor in the Maluku Island group who were forced to work on Thai-flagged fishing boats.
While stopping short of accusing the latest AP report, Global supermarkets selling shrimp peeled by slaves of being a 'beat up', the implications were clear. The Thai government and those responsible for reigning in illegal fishing practices, including forced labour and people trafficking, were not happy.
The AP report is not accurate
Thailand government spokesman Major-General Sansern Kaewkamnerd was blunt. "The AP report is not accurate. There are at least four very important matters of detail that are not accurately portrayed in the story. The overall tone is that the Thai government has done little to address human trafficking and slavery. It simply isn't true.
"There are more than three million people working in the Thailand seafood industry. This is not typical", he insisted.
Vice Admiral Jumpol Lumikanont, deputy secretary-general of the navy and chairman of the Command Center to Combat Illegal Fishing (CCCIF) said the AP only became aware of the 'Gig' shrimp processing shed because media were taken on a raid organised by the CCCIF after the shed was identified by Thai authorities.
"It wasn't overlooked or being protected by corrupt officials at all. It was part of an ongoing operation" that commenced on November 9 involving many [government] agencies to inspect fishing and seafood [processing] factories in 22 Thailand provinces.
"Up until the middle of December we inspected 90 seafood processing facilities. This month we plan to search 106", he said.
While the AP report specifically states that human trafficking charges against the owners of the 'Gig' prawn shelling shed were not laid – "No one at the Gig shed was arrested for human trafficking, a law that's seldom enforced" – the Thailand government says that isn't so.
Pol Major-General Kornchai Klaiklung from the Royal Thai Police (RTP) anti-human trafficking division said the factory had been shuttered and "the owners have been charged with 19 criminal offences, including human trafficking."
According to Major-Genera Kaewkamnerd, since the army seized administrative control in May 2014 "no one is being protected. More than 90 people have been arrested; government and local officials, soldiers (including one senior general), business owners, and police, all" he said.
Many of these processing facilities also fly under the Thai legal radar.
According to Thailand Ministry of Labour spokesperson Thirapol Khunmuang the factory described in the AP story was unregistered and unlicensed, the entire facility occupying just one rai (1,600 sq.m/ 17,222 sq.ft).
No AP journalist present when slave factory raided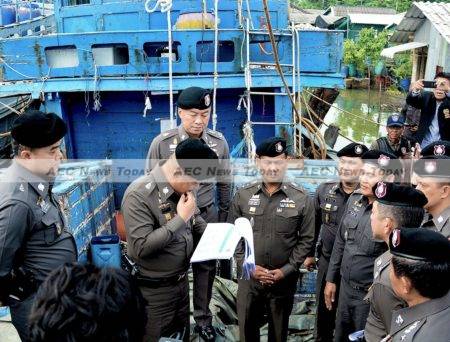 Doing the most damage to the AP story though is the Thailand government's claim that no AP journalist was part of the November 9 raid that freed two Burmese human trafficking victims at the centre of its latest story, and that rather than following law enforcement officials, the media were taken on the raid.
AEC News Today sent a series of questions to the AP, including whether it was true that no AP journalist was present at the time of the raid.
The AP was also asked how much it had invested in its ongoing investigation into the Thailand seafood industry, which has so far run for more than one and a half years and which the AP claims to have resulted in 'more than 2,000 trapped fishermen having been freed this year' as a result of its investigative series into slavery in the Thai seafood industry.
The AP also failed to respond to a question on where funding for such a lengthy, global investigation at a time of  reducing newsroom staff sizes and budgets was coming from, and why the Thailand seafood industry in particular had been chosen as its cause célèbre, as opposed to other human rights abuse and trafficking areas such as rare earth mining for smartphone components.
Not relying on mere words, on Wednesday RTP Deputy Police Chief Lieutenant-General Srivara Ransibrahmanakul inspected 24 fishing boats belonging to Thai company S. Tongma, a company at the centre of the the original AP report earlier this year.
The boats, worth more than Bt 5 million (US$ 138,500) each, were impounded in the wake of the AP report and are now tied up under armed guard at a wharf in the Hat Yai district of Songkhla while investigations into the company and the captains of the boats continue.
In the meantime the company has been shuttered and its directors held in jail on human trafficking charges.
While in Songkhla Lieutenant-General Ransibrahmanakul also addressed accusations made by Thailand's former chief of human-trafficking investigations, former Police Major-General Paween Pongsirin that he feared for his life after fleeing to Australia earlier this month after being transferred to southern Thailand.
Human rights cops dispel interference claim
One by one 122 human trafficking investigation officers from the region affirmed verbally and in writing that none had been threatened or coerced by high ranking or influential military, police, or government officials to avert their work.
Those spoken to privately after the meeting likewise confirmed their declaration, with several saying they were embarrassed by their former boss.
When asked for his reaction to the AP story while inspecting the seized fishing boats Lieutenant-General Pramanakul, said, "AP is wrong. These boats prove that the Thailand government is serious about [combating] human trafficking. AP should come and look at this", he said.
Thailand seafood industry steps up to address slavery
It's not only the Thailand government that has been galvanised into action.
Four days before the AP report which showed that its supply chain was tainted with shrimp from a processing facility using forced labour the country's largest seafood processor, Thai Union Group (TUG), announced it would cease using sub-contractors as of the end of the year.
'From January 1, 2016 onward, all processing work will be directly controlled by Thai Union, ensuring that all workers, whether migrant or Thai, are in safe, legal employment and are treated fairly and with dignity.
'We took this decision following a full review of our supply chain and the release of our revised Business Ethics and Labour Code of Conduct in September 2015. We were concerned that, despite regular audits, it is difficult to guarantee that all external pre-processors were adhering to our Code of Conduct' it said in a news release.
The move will see up to 1,000 people currently employed by so-called 'pre-processing' factories offered jobs with TUG, a decision that a source close to the company said will cost it an initial outlay of more than US$ 5 million.
By the middle of the week the industry's peak body, the Thai Frozen Foods Association (TFFA) which all Thai pre-processing operations must be registered with was announcing the initiative would apply to all of its members commencing January 1, 2016.
Announcing the new requirement TFFA president Poj Aramwattananon said as of the start of the year "Members will only produce and export shrimps processed in-house. That is is the only way to restore the industry's image and protect it from accusations of slave labour.
"Any members who still buy shrimps from external shrimp-peeling sheds will have their membership revoked and be barred from exporting shrimp products", he said.
While the latest AP report might have ruffled the Thai government's feathers the effect has been electrifying in an industry where forced labour and human trafficking have been rife for generations.
Although Thailand's seafood industry might not yet be free of human rights abuses international media pressure and the power that only an authoritarian government can unleash would appear to be rapidly changing the situation and it's a message the Thailand government clearly wants to promote.
Related:
The author travelled to Songkhla as a guest of the Royal Thai Police (RTP)
The following two tabs change content below.

John is an Australian national with more than 40 years experience as a journalist, photographer, videographer, and copy editor.
He has spent extensive periods of time working in Africa and throughout Southeast Asia, with stints in the Middle East, the USA, and England.
He has covered major world events including Operation Desert Shield/ Storm, the 1991 pillage in Zaire, the 1994 Rwanda genocide, the 1999 East Timor independence unrest, the 2004 Asian tsunami, and the 2009, 2010, and 2014 Bangkok political protests.
In 1995 he was a Walkley Award finalist, the highest awards in Australian journalism, for his coverage of the 1995 Zaire (now Democratic Republic of Congo) Ebola outbreak.
Prior to AEC News Today he was the deputy editor and Thailand and Greater Mekong Sub-region editor for The Establishment Post, predecessor of Asean Today.
In the mid-80s and early 90s he owned JLF Promotions, the largest above and below the line marketing and PR firm servicing the high-technology industry in Australia. It was sold in 1995.

Latest posts by John Le Fevre (see all)