Welcome to the Malaysia morning news roundup by AEC News Today, your one stop for Malaysia news on matters of governance and policies affecting Asean business communities.

Saudi Aramco to take 50% stake in Petronas' refinery and cracker project
The Saudi Arabian Oil Company (Saudi Aramco) will take up a 50% stake in the refinery and cracker project in the Pengerang Integrated Complex (PIC) in Johor under the US$7bil deal with Petroliam Nasional Bhd (Petronas).
— The Star Online
AirAsia warns of fake ticket sales on social media
AirAsia and AirAsia X have warned the public not to fall victim to deceiving advertisements by unauthorised travel agents on social media platforms such as Facebook and Instagram who claim to sell heavily discounted flights for AirAsia and AirAsia X.
— The Star Online
Malaysian palm oil price recovers from near four-month low
Malaysian palm oil futures recovered late on Tuesday, tracking stronger soyoil prices after hitting their lowest level in nearly four months earlier in the day.
— The Star Online
Azalina: Saudi Aramco's Rapid investment proves Opposition wrong
Opposition claims that the Saudi Arabian Oil Company will pull out of the Refinery and Petrochemicals Integrated Development (Rapid) project in Pengerang, Johor, fizzled out with Saudi Aramco signing an MoU with Petronas today, said Datuk Seri Azalina Othman Said.
— Malay Mail Online
Advertisement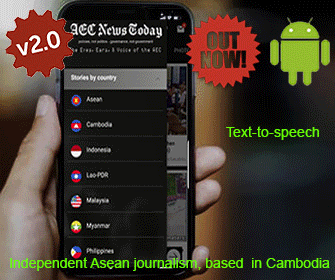 Singdollar hits record high against ringgit
The Singapore dollar yesterday touched a record high against the Malaysian ringgit – and at least one analyst believes the rate could be headed for RM3.30.
— New Straits Times
Exabytes acquires HT Internet to offer complete website solutions
Web hosting services and eCommerce solutions provider, Exabytes Group has acquired 100 per cent in HT Internet Sdn Bhd to offer more comprehensive online solutions to its customers as a group.
— New Straits Times
Thailand, Southern Rebels Agree to Framework for Limited Ceasefire
Negotiators from Thailand's military government and a panel representing insurgent groups achieved a small breakthrough in exploratory talks by agreeing Tuesday to a framework for a limited ceasefire in the Thai Deep South, according to officials from both sides.
— Benar News
North Korea spy agency runs arms operation out of Malaysia, U.N. says
It is in Kuala Lumpur's "Little India" neighborhood, behind an unmarked door on the second floor of a rundown building, where a military equipment company called Glocom says it has its office.
— Reuters
MY food delivery startup Delivereat gets $450,635 from Gobi-MAVCAP fund
Malaysian food delivery startup Delivereat has bagged $450,635 (MYR 2 million) in a Pre-Series A funding round lead by Shanghai-based venture capital firm Gobi Partners' Gobi MAVCAP ASEAN Superseed Fund that is focused on Southeast Asia's tech startups.
— Deal Street Asia
The Latest: N. Korea sends diplomats to Malaysia to get body
North Korea has sent a high-level delegation to Malaysia to seek the return of the body of leader's Kim Jong Un's slain half brother.
— ABC News
North Koreans Arrive In Malaysia Seeking To Claim Kim Jong Nam's Body
The body of Kim Jong Un's slain half-brother has become the subject of a diplomatic turf war between North Korea and Malaysia, where he was poisoned earlier this month with a powerful nerve agent.
— The Two-Way
N. Korean diplomats seek Kim's brother's body as Malaysia prepares to charge women for airport murder
North Korea sent a high level delegation to Malaysia on Tuesday to demand the body of leader Kim Jong-un's half brother, the victim of a deadly nerve-agent attack that many suspect the reclusive regime of orchestrating.
— The Telegraph
Construction sector third largest contributor to accident cases, minister says
The construction sector is the third biggest contributor to the 31,943 accident cases referred to the Social Security Organisation (Socso) last year.
— Malay Mail Online
Feature photo: sasint
The Malaysia morning news roundup is published M-F by AEC News Today: Governance, not government; policies not politics.