Lao morning news by AEC News Today is your one stop source for Lao PDR news on matters of governance and policies affecting Asean business communities.
More Than 36 Trillion Kip Invested in Vientiane Capital Last Year
The last year's investment in Vientiane Capital fetched over 36.9 trillion kip (USD 4.48 billion) mostly in commercial production and systematic food security projects.
— Lao News Agency
Cambodian investor in police custody over business scandal
A Cambodian investor has been in police custody since Tuesday after a number of angry business partners stormed to his office in Vientiane wanting to withdraw invested money in the joint venture.
— Vientiane Times
Bounce back for Lao travellers headed to Malaysia
Lao travellers visiting Malaysia are expected to increase more than 30 percent this year after data shows positive feedback from arrivals last year.
— Vientiane Times
Labor Ministry Calls on 790 Disabled People's Centre
A delegation from the Ministry of Labour and Social Welfare called on the 790 Disabled People's Centre in Xaythany district, Vientiane Capital on March 23 to commemorate the 71st anniversary of National Disabled People and Veterans Day (March 21/1946).
— Lao News Agency
Advertisement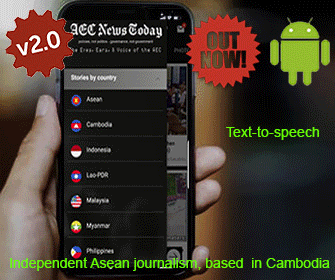 Report shows Laos's different timber tactics
Cambodia and Laos share a border and a problem: vast swathes of their forests have been cut down, loaded on trucks and driven east to Vietnam and often sent onwards to China.
— The Phnom Penh Post
Laos, Thailand working on rail transport to cut costs
The transport of goods by railway could cut costs by 30 to 50 percent of the current charges for road transportation, a senior Lao official has said.
— The Nation
Sixteen SMEs to Co-Host Mekong Tourism Forum in World Heritage Town
Sixteen small and medium sized enterprises (SMEs) in Luang Prabang, Laos will serve as Host Venues for Mekong Tourism Forum 2017 (MTF 2017), "Prosper with Purpose", June 6-9.
— Hospitality Net
The Second Thai-Myanmar Friendship Bridge opens traffic to Vietnam, Laos and Thailand
The Final Casting Ceremony for the Second Thai-Myanmar Friendship Bridge was held at temporary briefing hall in Myawady, Kayin State on 30 March morning.
— Global New Light Of Myanmar
Education and information key to plugging health gap
Ministry of Health officials and personnel from around the country met yesterday in Vientiane to review success of the Disbursement Linked Indicator (DLI) for the health sector.
— Vientiane Times
Field mission to Savannakhet inspects Luxembourg assisted health project
Representatives from the Ministry of Health and United Nations Joint Programme (UNJP) for Reproductive, Maternal, Newborn and Child Health (RMNCH) are currently visiting a Luxembourg assisted project in Savannakhet province from March 29-31.
— Vientiane Times
Foreign Affairs Ministry Marks Party's 62nd Anniversary
The Ministry of Foreign Affairs held a lecture on March 29, commemorating the 62nd founding anniversary of the Lao People's Revolutionary Party (Mar 22, 1955-2017).
— Lao News Agency
Over Hundreds of Kilogrammes of Smuggled Cattle Meat Buried
More than 400 kg of smuggled cattle meat and internal organs were reportedly buried in Vientiane Capital on March 29. The event was witnessed by authorities of the Im-Ex Inspection Department under the Ministry of Industry and Commerce and relevant sectors.
— Lao News Agency
Letters: Vandersteen a Hmong advocate
Mike is a mayor who actively supports diversity in our city. In particular, he is an essential friend to the Sheboygan Hmong community, lending his time, patience, and effort into building a strong relationship between Sheboygan and its Hmong populace.
— The Sheboygan Press
Exotic Laos
Luang Prabang in Laos has lots to offer, from spectacular scenery to temples, elephant camp and more, writes Maizurah Ariff
— New Straits Times Online
Feature photo Albert Dezetter
Find our previous morning news feature photos in the AEC News Today Morning News Feature Photos gallery where you will find a pictorial display of daily life throughout the Asean Economic Community (AEC).
Introducing The AEC News Today Mobile App
In an era of hectic schedules where time is precious, the AEC News Today mobile app enables you to stay up to date with the latest Asean news on governance and policy issues affecting the Asean Community while you are on the move and whenever you have a few minutes to spare.
See full details, including our AEC News Today Mobile App Privacy Statement here: Stay up to Date With The AEC News Today Mobile App
Download the AEC News Today mobile app from Google play or the App stores by clicking the icons below.
Advertisement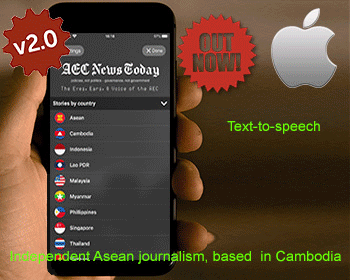 Lao morning news is published M-F by AEC News Today: Governance, not government; policies not politics.