Lao PDR morning news by AEC News Today is your one stop source for Lao PDR news on matters of governance and policies affecting Asean business communities.
UNDP Chief Stresses Importance of Human Development for Graduation from LDC status
Ms Helen Clark met with high-level officials and representatives of the private sector on March 4, 2017, and launched new UNDP programmes during her farewell visit to the Lao PDR.
— Lao News Agency
Startup Weekend Helps Young People to Run Businesses in Laos
The 5th Startup Weekend was held in Vientiane Capital Last Friday, with the theme "No Talk, All Action" to help young people to kick off new businesses in the Lao PDR.
— Lao News Agency
Lao outbound travellers hit 3 million for 2016
Lao outbound travellers made more than 3.05 million trips in 2016 and more people are suggested to have made longer-distance trips in foreign countries, the latest statistics showed.
— Vientiane Times
Vietnam channels investment capital to Laos
The Vietnamese government has approved total investment of almost US$21.4 billion, US$5.12 billion of which has been allocated to Laos.
— Vientiane Times
Advertisement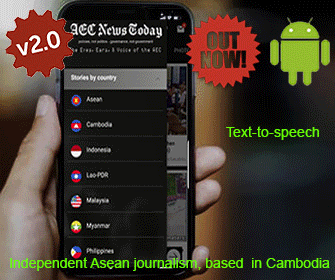 Laos toughens up on foreign workers
THE LABOUR and security sectors in Laos are gearing up to register and issue temporary work permits to foreign workers as part of |government efforts to regulate|foreign nationals strictly.
— The Nation
HCM City boosts comprehensive co-operation with Lao province
Leaders of Hồ Chí Minh City and Houaphan Province of Laos reached a consensus on co-operation and orientation in various fields for 2017 to 2020, during their talks yesterday.
— Viet Nam News
AFC Travel Report – Laos
In line with our process of being on the ground in the countries we invest in, Scott Osheroff, Analyst at Asia Frontier Capital, travelled to Laos to visit portfolio companies and other companies on our shortlist. The photos in this article are all by AFC.
— Seeking Alpha
Thai, Lao and Vietnamese food have a home at Spicy Noodle in Murrieta
There is no shortage of Thai and Vietnamese restaurants to fill your Southeast Asian hunger, but have you ever eaten Lao cuisine?
— Daily Bulletin
U.S. and WFP Promote Children's Education and Nutrition
The U.S. Ambassador to the Lao PDR, Rena Bitter, visited schools supported by the World Food Programme (WFP) and the U.S. government in Luang Prabang on the 10th of March, 2017.
— Lao News Agency
Gov't Plans to Promote Transport Infrastructure
The Lao government is preparing to initiate investment promotion for developing and improving transport infrastructure through the Public Private Partnership mechanism, which is considered as a favorable option.
— Lao News Agency
Foreign workers' legalisation must meet international standards: DPM
Officials in charge of registration and issuing temporary work permits for foreign workers have made impressive achievements over the past year but the priority is still on international standards, the Deputy Prime Minister advised recently.
— Vientiane Times
Asia-Pacific transport forum eyes sustainable development
Government officials are confident that the Intergovernmental Tenth Regional Environmentally Sustainable Transport (EST) Forum in Asia currently place in Vientiane will help to spur the development of Laos' transport network.
— Vientiane Times
Feature photo: Sasin Tipchai
Introducing The AEC News Today Mobile App
In an era of hectic schedules where time is precious, the AEC News Today mobile app enables you to stay up to date with the latest Asean news on governance and policy issues affecting the Asean Community while you are on the move and whenever you have a few minutes to spare.
See full details, including our AEC News Today Mobile App Privacy Statement here: Stay up to Date With The AEC News Today Mobile App
Download the AEC News Today mobile app from Google play or the App stores by clicking the icons below.
Lao morning news is published M-F by AEC News Today: Governance, not government; policies not politics.