Advertisement

December 5, 1927 – October 13, 2016
Thailand's King Bhumibol Adulyadej, also known as King Rama IX, is dead. The Thailand royal palace announced at 6.58 pm that the King died at 15.52 hrs, today, October 13 2016 in the room he has been staying in at Siriraj Hospital off and on since 2009. He was 88-years-old, had ruled the Thai throne for 70 years, and reigned through 17 coups.
King Adulyadej last granted a public audience to mark the 64th anniversary of his coronation in 2013. In September he was seen by those keeping a vigil for his health when he made a brief visit to a Siriraj Hospital shop. Prior to that he was seen in February when he travelled between the hospital and his Bangkok palace where he spent several hours.
At Bangkok's Siriraj Hospital where he spent much of the past decade the the long lines of well-wishers who have maintained a daily vigil over the years has swollen, replaced by those who prayed and held hope, by a sea of faces in mourning, many who regarded the king as a living god refusing to believe he is dead.
The writing was on the wall last Sunday when the Royal Household Bureau issued a bulletin in which it said his doctors had now sought formal permission for the king to stop performing any official duties– a clear sign that the Regent, former Prime Minister Prem Tinsulanonda should take over.
The ninth monarch of the Chakri Dynasty, which first began ruling Thailand, or Siam as it was known in 1782 following the founding of the city of Bangkok. King Bhumibol Adulyadej, whose name translated from Sanskrit means "Strength of the Land, Incomparable Power", was born in Cambridge, Massachusetts on December 5, 1927, the youngest son of HRH Prince Mahidol Adulyadej, the Prince of Songkla.
Educated in Lausanne, a city in the French-speaking part of Switzerland on the shores of Lake Geneva, King Rama IX graduated from the University of Lausanne with a degree in law and political science.
In 1948 he lost his right eye in a motor vehicle crash after he drove into the rear of a truck in Switzerland. It was while recovering in hospital that his previous acquaintance with the woman who would later become his wife and the royal consort, Mom Rajawong Sirikit Kitiyakara, flourished.
After completing his overseas studies in the wake of the premature death of his brother, King Ananda Mahidol (King Rama IIX), Bhumibol Adulyadej ascended the throne on May 5, 1950, his wife of one week and the former royal consort became Queen Sirikit at the same time.
The two had four children: Princess Ubolratana Rajakanya, His Royal Highness Crown Prince Maha Vajiralongkorn, Her Royal Highness Princess Maha Chakri Sirindhorn, and Her Royal Highness Princess Chulabhorn Walailak.
Revival of the Chakri Dynasty glory
It was during the rule of military strongman General Field Marshal Sarit Dhanarajata, who King Adulyadej appointed as Military Defender of the Capital in 1957 following a coup that replaced military dictator Field Marshal Plaek Pibulsonggram, that the glory and traditions of the past Chakri Dynasty kings was revived, including the practice of crawling in front of royalty during audiences, the royal-sponsored Thammayut Nikaya order of Buddhism, and the royally-patronised ploughing ceremony.
A frequent visitor to  Thailand's far-flung provinces, perhaps King Bhumibol Adulyadej's finest qualities was his ability to empathise with his subjects irrespective of whether they were a Bangkok urbanite or a rural subsistence farmer.
A solutions focused monarch
Thailand Celebrates King Bhumibol's 85th Birthday on December 5, 2012. Video uploaded to YouTube by AlJazeera
Throughout his 70 years, four months and five day reign, King Bhumibol Adulyadej showed that he was able to grasp the challenges facing the people he ruled and either singularly or in consultation with others devise solutions to those challenges.
One such solution to a problem was the establishment of the Distance Learning Foundation (DLF) which began broadcasting the national education curriculum from the so-called The King's School in the grounds of Wang Klaikangwan Palace in Hua Hin in 1995.
His concern over the nutrition levels of Thai citizens also saw him fund the establishment of an experimental dairy farm in 1962 inside the grounds of Chitralda Palace, his Bangkok residence, which formed the foundation of the Thailand dairy industry.
King Bhumibol Adulyadej's generosity knew no limit's endearing him to a segment of the population that up until then few others from the capital had paid much attention to. While on village tours, among other things, he encouraged his accompanying private (royal) physicians to provide medical care for local residents.
Typical of the approach King Bhumibol Adulyadej took to everything is a speech he made on the occasion of his 80th birthday when he said: "For me to talk to people whose livelihood is tied to the rice fields without knowledge of rice growing… that, I cannot do. I had to teach myself the skill first".
A true Renaissance man, King Bhumibol Adulyadej was an accomplished painter, musician, photographer, author, translator, sailor and sailboat designer. He was also the holder of no less than six patents for artificial rainmaking and an additional one for a waste water aerator.
Confined to a wheelchair since 2007 he had been in and out of hospital frequently over the past nine years, spending almost seven years in a special suite constructed for him at Siriraj Hospital from 2009. In May the RHB announced he had received treatment again for hydrocephalus (fluid in the brain), as well as a lung, and knee, infection. In early June he underwent a series of angioplasty procedures to widen arteries leading to and from his heart.
The world's richest monarch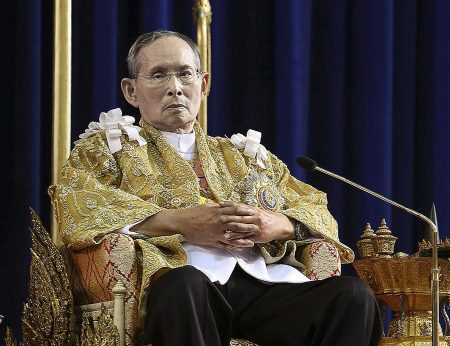 In 2014, King Bhumibol Adulyadej was listed by Business Spectator magazine as the world's richest monarch with a personal wealth of US$30 billion. The Crown Property Bureau (CPB), which handles the Crown's property and investments is said to own some 1,343 ha (3,320 acres) of land in central Bangkok conservatively estimated to be worth more than $71.464 billion or Bt2.517 trillion and some 5,342 ha (13,200 acres) of town and country land.
Through the CPB King Bhumibol Adulyadej was also Thailand's largest stock market investor with the CPB portfolio including a 32 per cent stake in Siam Cement Group Pcl. (SCG), said in mid 2014 to be worth about $12.6 billion, Thailand's largest industrial group employing more than 24,000 people; a 21 per cent stake in Siam Commercial Bank Pcl. (SCB), Thailand's third-biggest lender; an 87 per cent stake in Deves Insurance Pcl.; in addition to holdings in Christiani & Nielsen (Siam) Ltd., the first company to list on the Stock Exchange of Thailand (SET) in 1930; and Intouch Holdings Plc., (formerly Shin Corporation) the parent company of Advanced Info Service (AIS), the largest mobile phone operator in Thailand, and Thaicom, Thailand's satellite operator.
The CPB also holds an 87 per cent stake in Munich-based hotel chain Kempinski AG., which CPB Equity Co., reported in 2005 to be worth (along with smaller holdings in Thai companies) $716 million.
King Bhumibol Adulyadej was also the owner of the Golden Jubilee Diamond, the largest cut and faceted diamond in the world, which was given to him in honour of his 50th coronation and which in 2014 was estimated to be worth between $4 million and $12 million.
Thailand entering uncharted territory
The death of Thailand's widely revered monarch portends an uncertain future for the Southeast Asia nation.
Such is the bond between the corporate and fiscal health of the nation and the monarchy that in 2009 when he was hospitalised the SET fell 8.2 per cent before closing down 5.3 per cent, when rumours exaggerating the seriousness of his condition were circulated by SMS/ text messages.
With some 85 per cent of the population under 90 years of age King Bhumibol Adulyadej is the only monarch the vast majority of the Thailand population have ever known and his death has reverberated through the nation.
Thailand government officials will observe 100 days of mourning during which all citizens are encouraged to wear black attire. The Thai national flag will be flown at half-mast throughout the country and at foreign missions abroad for 30-days. Entertainment venues will be closed and the sale of packaged alcohol ceased for an as yet undetermined time.
Prime Minister Chan-o-cha has announced that Crown Prince Maha Vajiralongkorn will succeed his father as the next King of Thailand, Rama X. When his coronation will take place has not as yet been announced.
King Bhumibol Adulyadej tribute slide gallery
Photos Courtesy Bureau of the Royal Household, Museum & Archive, Thailand Government Public Relations Department
This is a developing story. Updates may be made without notice.
Editorial Note: AEC News Today was aware of the death of King Bhumibol Adulyadej earlier this afternoon. We opted to not publish an update until the death was announced officially several hours later. It is the job of a doctor to pronounce a person dead, not the media. We extend our sincerest sympathies to the people of Thailand at this time of great loss.
The following two tabs change content below.
The seek him here and they seek her there, but all the searches and probes end in vain. Like a veritable wisp of smoke Asean Insider flits between boardrooms and bar stools, from first class lounges to urban slums, watching and listening, advising and counselling.
Whether the AEC Insider is male or female is not known, neither too is the AEC Insiders' age, country of origin, or country of residence known.
AEC News Today receives the AEC Insider despatches through an anonymous mail-drop and after verifying the facts decides whether to publish or not.
Latest posts by Asean Insider (see all)