Advertisement

"It's only an eight-minute ferry ride over to the island," says a friendly Malay Singaporean, who gives me the lowdown at a local Padang restaurant. He has a house here on the island of Bintan and tells me the motor bike guy sitting next to him is his caretaker. He's off to Jakarta in a few days, but has a 5.30 ferry to catch to Singapore. He's a businessman, and the beeps from Whatsapp on his phone confirms he's indeed a busy man.
He says his first wife divorced him then he married a woman from Singapore, where he now lives. He saw me yesterday at the hotel. "I don't like this hotel," he says of the place next door to the warung we're eating at; "It's too dirty." He says the town has  many hotels that offer prostitutes. "But not the one you are staying at; the owner is hajji," he says, meaning someone of outstanding moral behaviour.
He says the Sultan's Palace over at Penyengat Island was built without mortar: "They only used one-in-eight egg mix." And the island was once full of snakes: "But don't have any more." He doesn't know why, but maybe the locals ate them.
Before I say goodbye to my guide, who wants only to practice his English, he volunteers that he's known his driver for about 20 years and "he's very trustworthy". Also, should I ever get hungry, the hotel I'm staying at sells instant noodles.
I'm usually just waking up when I have these kind of  interactions with the locals, so I always think of the practical questions. Ibu ('Auntie') has served me a wonderful Padang dish, but her teh tarik, a traditional milky drink, leaves a lot to be desired. Her two assistants, who have finished serving and cleaning up the tables, are already glued to their phones.
I'm anxious to get over to the island. I walk down an alley, with murals of cannons and other historical images, towards a separate pier for Penyengat Island. Ibu says we need to wait for five more people before the wooden boat, powered by a modest outboard motor, can leave.
The tiny boat eventually chugs across the little strait separating Bintan and Penyengat Island in the Riau archipelago, carrying mostly locals back to the island after a day of shopping in Tanjung Pinang. "Be careful you don't do anything wrong," warns one islander, the son of Ibu. "It's a sacred island." Men in uniform patrol the street. They're Indonesia Navy and one is carrying umbrellas for the tourists.
Ayu, a man in his mid-twenties, offers in perfect English to show me around the island for Rp 30,000 (about US$2.24). His bike has a sidecar attached to it and the tour begins in earnest, one of many traversing the town's sights. The Penyengat Island mosque built with mortar made from eggs and mud is off limits, so I satisfy myself with stopping to snap a few quick photos.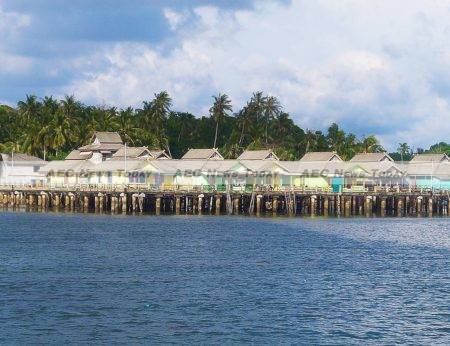 Next we visit a few cemeteries and a warung on the other side of the Penyengat Island, where we discover a happy fisherman at the end of a 500-metre pier. He has five big fish and he's going home to cook them up. Along the shoreline, men scavenge for wood in the mud left exposed by the low tide; laughing and carrying on despite the relentless heat.
I follow the path that leads up to the fort at the highest point of the Penyengat Island, breathing heavily. Ayu reminds me to look out for the cannon with the VOC  stamp on it, which stands for Vereenigde Oost-Indische Compagnie. Resting my hand on one of the rusty cannons, I trace the engraving with my finger: the Dutch East India Company.
Penyengat Island summit
From Penyengat Island's summit, I can see the 300-metre-high volcano, now extinct, on Bintan. That's where all the five-star resorts are. I imagine these Dutch cannons blasting, protecting the island from the invading British who had just seized Singapore. This was the stuff of the Great Game of Imperialism. And only a handful of tourists are here to appreciate this dilapidated fort, which seems badly in need of a face-lift. But perhaps that's part of the charm: seeing the relics of ancient history in all their ruinous, run-down glory.
Later, at a cemetery for the Sultan who wrote Malaysia's first grammar book, the peace is shattered by the shrieking of an irate tourist: "He left with my bag!" The Muslim caretaker selling souvenirs nearby just laughs. "No worries. He's just getting fuel." Moments later the driver returns and the poor, distraught woman is reunited with her luggage. The caretaker lets loose another giggle. Inside the tomb, the same caretaker perches on a window ledge. Rose petals have been scattered liberally over the Sultan's grave, but the air still reeks of chicken crap. More giggling.
Indonesians here consider the Penyengat Island's mosque, Masjid Raya Mosque or Grand Mosque of the Sultan of Riau, one of the most famous in the Republic of Islam. But I'm sure Christians would argue they have some pretty impressive churches in Sulawesi.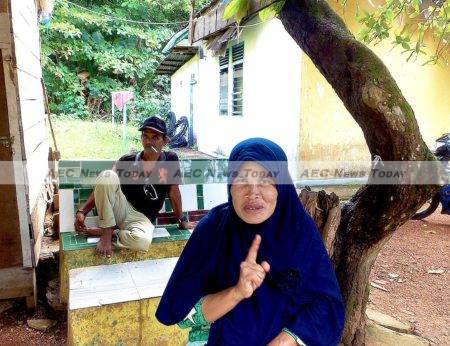 "Hello, darling," croons a toothless old woman gutting a fresh catch in a fishing village as we pass. Here the houses, which stand high on stilts, are all connected by a single cement pier. Ayu points and tells me: "That's the administration buildings of our islands."
Our last stop is the Malay Palace, which was actually built with 'real' mortar. Tourists from Batam are posing for pictures, so I take a few group shots. Then a young lady, dressed in traditional Muslim attire, asks if I think she's pretty. She is.
As we wind the day down with a brief stop at a beach warung, I find myself fretting that I will miss the last ferry. Ayu tells me not to worry: "They run 24 hours." So much for my fantasy about becoming stranded here.
I buy a much-needed Red Bull and wait for the boat, loitering in the waters nearby. The ticket officer yells: "Get your arse here, we have a full boat!" I pay my 50 cents and jump aboard. Here I meet Mohammed, from Padang in Sumatra, who's been visiting the mosque with his father and is now continuing onto a wedding. One of the holy men buried in the mosque grounds is an imam from Borneo, he says: "It's a two-hour flight from here. To think that he ended up buried here is quite amazing."
Mohammed says I'm entitled to visited the sacred mosque, and he's perplexed why my guide wouldn't let me in. I was less so. A Naval officer had been eyeing my casual tracksuit, which, with the benefit of hindsight, seemed slightly inappropriate for such a grand occasion.
 I declare myself to be the "wave master"
As the boat ploughs through the waves, a deckhand stands in the bow."He's the Wave Master," Mohammed points out. Just then, a large ferry called the Wave Master glides past. I declare myself to be the Wave Master, and promptly 'wave' to the crew waiting for us on the pier.
Back at my favourite warung, I meet a Javanese man from Solo (also known as Surakarta), whose face bears extensive scarring. I comment that petrol prices went up by 30 per cent when his current prime minister took office. He's not amused.
A day playing tourist in searing tropical sun can sap the energy levels, so I find a KFC and a Pizza Hut and buy big at both. Perhaps the only things bigger are the conspicuously well-fed Chinese tourists trying to squeeze their enormous frames between tiny plastic tables.
The next morning I meet a Singaporean Malay married to an Indonesian, who proceeds to set me right about the mosque on Penyengat Island and its creative alternative to cement: "It was built with chicken eggs." One wrist is clad in myriad silver bracelets, each bought to commemorate his global travels. "I have one for each country."
Penyengat Island is perhaps one of the cheapest and most cheerful destinations in the world – a fact the natives treasure. There are no hotels here. "The happy-go-lucky locals like it that way," notes Mohammed. "They won't allow any development. It's off limits to developers."
Day tripping Penyengat Island & the egg white mosque photo slide gallery
Photographs Vanya Vetto
The following two tabs change content below.
'Vanya Vetto' began his journalism career in Australia and has had work published in the Sydney Morning Herald (SMH), South China Morning Post (SCMP), and San Francisco Examiner (SFE).
After gravitating to Asia in 2008 his interest in Asian culture germinated. Possessing an eternal wanderlust he travels Southeast Asia on a never ending quest to learn as much about the people in the the Asean region as possible.
Author of GARUDA'S TRAVELS, Sins & Redemption, Bali Dreaming, One Eye Open: The Other Singapore, expect to see more from 'Vanya Vetto' as he experiences Southeast Asia like no one else.
Latest posts by Vanya Vetto (see all)