Advertisement

The days of Cambodia waterways and roadsides littered by discarded plastic bags could be just over the horizon following the signing of a sub-decree banning small plastic bags and levying charges for plastic bags given away at supermarkets by the Cambodian government.
The law was drafted early October by sustainable development NGO ACRA Foundation in collaboration with the Cambodian ministries of the environment, interior, finance and tourism. It halts the production and importing of plastic bags smaller than 25 cm wide and thinner than 0.03 cm, while a mandatory charge of KHR 500 (US$0.13) for every plastic bag dispensed at supermarket checkouts will be implemented later in the year.
ACRA country manager, Claudia Oriolo who helped draft the sub-decree explained to AEC News Today that the KHR 500 charged for each plastic bag will be retained by the supermarket. This will hopefully give an incentive, especially at the initial stage, to comply with the law when it comes into effect, she wrote in an email.
In terms of enforcement, first offenders will receive a written warning, while repeat offenders will have the prohibited items confiscated. However, Ms Oriolo explained the law was still awaiting official recognition by Cambodian Prime Minister Hun Sen and some provisions could be altered prior to the law being enacted.
The proposed law first started out as a 'prakas' (a ministerial declaration), but in order to enable enforcement was upgraded to a sub-decree. The next step towards becoming a law will see it reviewed by Cambodia's Ministry of Justice before being passed to Cambodia's Council of Ministers for passing as a law.
Charlotte Muckenstrum, from volunteer funded NGO Plastic Free Cambodia, said there were two differences to this announcement over previous attempts to curb Cambodia's plastic bag use. For one, it's the first time a sub-decree has been issued to ban any plastic in the country. Secondly, the campaign not only attempts to stop the use of plastic bags, but also aims to change people's behaviour about the product.
'Plastic is relatively new to Cambodia, but the use of plastic (and especially single-use plastic bags) has seen such explosive growth that today Cambodia uses six times more plastic bags than the United States, she explained in an email to AEC News Today.
Changing Cambodian's plastic bag behaviour
As part of its communication campaign to change Cambodia consumer behaviour and habits regarding plastic bags, ACRA has released a Khmer language advertisement. The short advert uses comedy and is set in an outside market, a place Cambodians are more likely to shop. Rather than telling people to stop using plastic, the video encourages people to use only one bag for all their fruit and vegetables.
In January Phnom Penh deputy governor Ieng Aunny said that changing people's behaviour takes time, but Cambodia cannot wait any longer.
At an ACRA's SWITCH-Asia project, workshop organised earlier this year attended by several government ministers, 'Reducing Plastic Bag Waste, Mr Ieng said "policy makers need to take action".
During the workshop Mr Ieng said that despite being provided freely, plastic bags come with a cost to Cambodia. Poisonous emissions are released when plastic bags are burnt, they contaminate food, leak toxins in landfills, obstruct drainage and sewerage systems, and are littered at tourist sites, he said.
Cambodia's plastic bag profligacy
In this video, the SWITCH-Asia project "Reducing plastic bag waste in Cambodia" examines the reasons behind the widespread, excessive use of plastic bags, despite their proven and visible damages.
Video uploaded to YouTube by SWITCH Asia
According to Deutsche Welle (DW), Cambodia imports of plastic bags from Vietnam and Thailand amounted to some US$100 million last year. However, it notes the Cambodian government's commitment to reducing plastic bag use by 50 per cent by 2019. It also notes plans by Cambodia to cooperate with Japan in creating a recycling plant to transform plastic waste into furniture and household materials.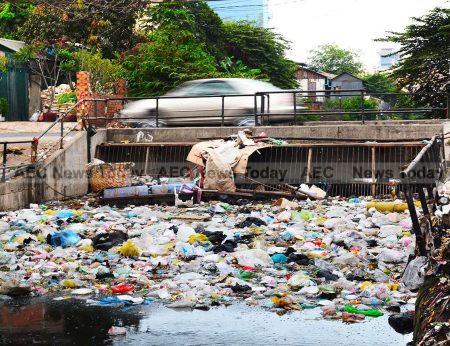 Ms Muckenstrum, who attended two workshops organised by ACRA, says alternatives must be given to replace the use of plastic bags and support given to local companies that import or manufacture alternative products.
Part of the reason plastic bags are so widely used in Cambodia is their extreme versatility.Cheap, light-weight, water proof and disposable, a kilogram of plastic bags in Cambodia costs roughly KHR 5,000 (US$1.22).
Cassava bags, paper bags, sugar cane boxes, reusable containers, and bamboo straws are some examples of how we can reduce the use of plastic, Ms Muckenstrum explained.
Research by ACRA found that 10 million plastic bags are used in Phnom Penh daily, with the average Cambodian using more than 2,000 plastic bags every year; ten times higher than average consumption in the European Union and China.
According to Ms Oriolo the Cambodian government intends to apply the same KHR 500 levy on plastic bags at supermarkets to all retail businesses by 2020.
Related: