Advertisement

The Thailand government has continued with steps to reign in its fishing industry with seven government agencies on Monday (August 17) formalising an agreement to exchange information and data on those working or employed in the Thailand fishing industry.
The new Fishing Info system is the result of several months work involving the Royal Thai Navy (RTN), the Royal Thai Police (RTP), the Marine Department, the Department of Provincial Administration (DoPA), the Department of Employment (DoE), the Department of Labour Protection and Welfare (DLPW) and the Department of fisheries (DoF).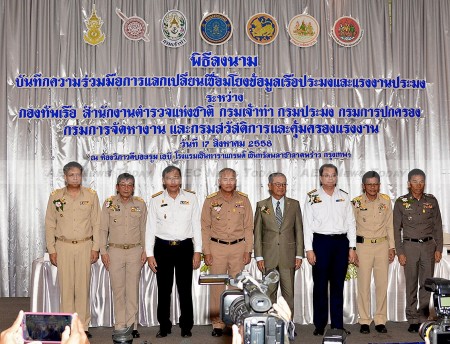 Available to law enforcement officers in the field via an iOS or Android app, as well as from desktop computer systems, the Fishing Info system provides real-time information on Thai registered fishing vessels of all deadweight tonnages.
Amongst information contained in the system is a full description of the vessel, its master, crew, engine, annual permission of vessels, permission of fishery, name and type of fishery equipment with photos, Vessel Monitoring System (VMS), labour information and their photos, vessel patrol information as well as equipment the vessel is licensed to carry.
Data compiled on Thailand's fishing fleet will be accessible to all departments via the Royal Thai Navy (RTN) run Command Center to Combat Illegal Fishing (CCCIF), which was established following a 'yellow card' warning issued to Thailand by the EU Commission in April this year to comply with its illegal, unreported and unregulated fishing (IUU) requirements.
According to Thailand Minister of Agriculture and Cooperatives, Pitipong Pungboon Na Ayudhaya, information from the seven government agencies will be linked to the CCCCIF which will enable agents of all departments to verify and track the location of all registered Thai fishing vessels.
$5bln in exports a risk
Thailand's seafood industry employs more than 300,000 people and generates export revenue annually of more than Bt200 billion (about US$5.628 bln) and represents about 10 per cent of Thailand's total agriculture gross domestic product (GDP).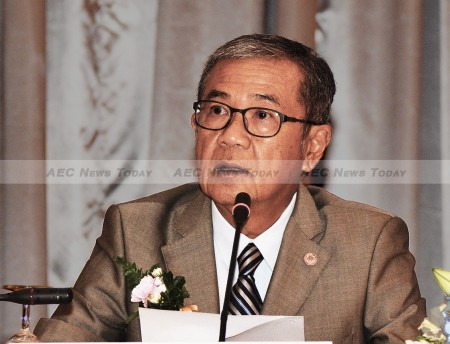 Annual seafood exports to the EU are valued at between €575 million to €730 million ($641-$813 million) with exports to the USA adding a further Bt55.488 billion (US$ 1.657 mln).
Since being slapped with the 'yellow card' by the EU on April 21 Thailand has moved swiftly in an attempt to deter the issuing of a 'red card' and the possible banning of it's seafood industry exports.
It has introduced a PIPO system at all ports nationwide, demanded that all fishing boat owners register their vessels; performed inspections of equipment on all fishing boats seeking registration, registered the crew and captain of all fishing vessels; and demanded that fishing vessels over 30 ton deadweight instal vessel monitoring systems (VMS). It has also ordered that some 7,000 legally registered trawlers suspend fishing for at least five days a month.
Woraporn Prompoj, director-general of Thailand's Fisheries Department, said the measures aim to find a balance between conserving fisheries stocks and consuming them.
11,000 fishing boats 'vanish'
Last month the National Shippers' Council (NSC) said, around 40,000 vessels have been registered so far while some 3,000 remain unregistered. However, sources close to the CCCIF say that some 11,7000 Thailand fishing vessels have 'vanished', suspected of being hidden in canals, khlongs and rivers due to their equipment failing to meet EU IUU standards.
According to Mr Phuengboon the Thai fishing industry has a long-standing reputation for over fishing due to an excessive number of vessels, illegal fishing equipment, and imbalance in managing marine resources.
This has resulted in damage to ocean ecosystem and rapid decline in marine habitats. The memorandum of understanding (MoU) signed on Monday, he said will help to significantly reduce illegal fishing in Thai waters, as well as the waters of other countries, by enabling officials to immediately verify the status of every Thai fishing boat, it's crew and permitted equipment.
Related: