Advertisement

It started, almost 100 years ago, with a humble seed – and has since grown into a scandal of such proportion that it casts a pall over emerging markets across Asia. Insider trading by executives at one of Thailand's most high-profile groups has now become a test case for corporate governance reforms and regulatory enforcement in the region, where many companies remain controlled – either wholly or in part – by their founding families.
One such dynasty, headed by billionaire Dhanin Chearavanont, Thailand's richest man, today counts among its assets the Charoen Pokphand (CP) Group, one of the world's largest conglomerates. The CP Group in turn controls Thai convenience-store operator CP All (think 7-Eleven Thailand), Southeast Asia's largest food retailer by market value and the subject of the aforementioned scandal.
There was a time when being the focus of global outrage would have been anathema to the CP Group: the year is 1921 and two brothers, Chia Ek Chor and Siew Whooy, have just completed the arduous overland journey from their native China to Thailand.
Settling in Bangkok's Chinatown, the pair immediately set about transforming their modest shop – which sells seeds imported from their home country – into what will become Thailand's biggest agricultural group.
From making animal feed and operating farms producing piglets, chicks, ducklings, shrimp and fish, the brothers diversify into retailing, telecommunications and real estate. And, as they diversify, so they expand – first to Indonesia, then to Singapore and Japan.
In 1979, when Communist leader Deng Xiaoping finally opened China's economy, the CP Group was its first foreign investor (the brothers' business there was registered as 'No. 001').
Just a few years ago, the relationship was cemented when the group invested US$9.4 billion to become the main investor in China's second-biggest insurer, the Hong Kong-listed Ping An Insurance Group.
The CP All Insider Trading Scandal
And so, to the scandal. The year is 2013 and three executives at CP All, acting on inside information, are frantically buying shares in cash-and-carry chain Siam Makro.
In the space of 12 days ending April 22, according to a statement released last December by the Securities and Exchange Commission (Thailand) (SEC), Chief Executive Korsak Chairasmisak (now vice-chairman) bought 118,000 shares; directors Pittaya Jearavisitkul and Piyawat Titasattavorakul 7,500 and 5,000 shares respectively, and the daughter of Athueck Asvanund, vice-chairman of CP Group's True Corp., 6,000 shares.
Less than 24 hours later CP All announces a tender offer for Siam Makro shares at Bt787  (about US$22.02*), a full 15 per cent above the April 22 close.
More than two years later, in December 2015, the three men are fined a combined US$949,000 by the SEC when the regulator determines they had prior knowledge of the deal: textbook insider trading.
Thailand Development Research Institute (TDRI) President Somkiat Tangkitvanich, for the record, has noted that the fines imposed represent only one to 1.25 times the profit earned from the deal.
Thailand Corporate Governance A Concern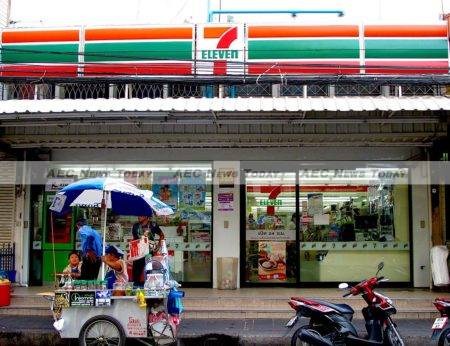 The end? Far from it. At a time when many Asian governments are trying to attract foreign cash into their floundering financial markets, financial crimes – and how they are dealt with – are becoming a major concern for investors, both domestic and overseas.
And CP All, where the offending executives were fined but allowed by an internal audit committee to retain their positions, is still very much in the international spotlight.
In the immediate aftermath of the SEC insider trading ruling, CP All said in a stock exchange announcement that the three executives had intended no wrongdoing, but had acted with 'imprudence' and 'limited understanding' of the rules.
Mr Korsak claimed he was unaware that insider trading was illegal, and helpfully pointed out that the fact he bought the stock under his own name proved that. CP All vowed to strengthen its corporate governance committee and formally admonish the executives, but stopped short of firing them on the grounds they had 'track records of ethical practice'.
Other forces have been less forgiving. 'The case reflects the weaknesses and flaws in business operations which result in a dishonest, unethical and immoral image outlined under the Thailand Securities and Exchange Act 1992,' said the Anti-Corruption Organisation of Thailand (ACT) in a statement released two months after the executives were fined. 'It may also erode confidence in all Thai listed companies and weigh on the country's development.'
Institutional Investors Say 'No More CP All'
But could this case really bring Thailand's stock market, which analysts have already described as one of the murkiest in Asia, crashing to its knees, along with the country's struggling post-coup economy?
"The behaviour is appalling", Hugh Young, managing director at Aberdeen Asset Management Asia (AAMA), which has nearly $80 billion of assets under management, told Reuters. "The sanctions are too light and the more people speak out, the better."
Among those who have spoken out are Thai financial institutions managing more than $170 billion. Specifically Voravan Tarapoom, chairman of the Association of Investment Management Companies (AIMC),
She represents 20 or so institutional investors, including the government pension fund, which has already vowed to reduce investments in any firm involved in insider trading because it reflects poorly on corporate governance.
Mrs Tarapoom, who is also CEO at BBL Asset Management, told reporters that the executives' resignations would constitute "a meaningful action and bring about better status for the entire capital market".
She simultaneously announced that the AIMC "will not purchase CP All shares until corporate governance issues are cleared.
"The agreement on freezing of investments in CP All's equity and debt securities has been anonymous because of corporate governance concerns. On the question of whether they will reduce investments further, this will depend on the decision of each mutual fund and pension fund."
Corporate Governance Remains A Challenge
Other institutional investors echoed concerns that the scandal would damage the reputation of the Thai securities market.
"If this had happened in another country like Japan, the executive will resign," one fund manager told Reuters on the sidelines of a recent AIMC meeting. "Thailand is not so mature yet, but we have to change."
Bandid Nijathaworn is CEO of the Thai Institute of Directors (TID), a private organisation focusing on corporate governance. "The case is a good reminder that for some companies, corporate governance remains a challenge and cannot be taken for granted, even with a top-tier firm," he told Reuters.
"This debate is a reflection of the heightened awareness and recognition of the importance of corporate governance. We support the [regulator] tightening up to make the punishments much tougher than we see."
An anonymous source at the Thai Investors Association (TIA) told the Bangkok Post the group had requested a meeting with CP All executives but was refused.
"We don't want this case to become a precedent that executives who break some rules can end the case by paying money," the source said. "How can investors be confident that such executives will not take advantage for their own benefit?"
And although the SEC was praised by Thailand's anti-corruption watchdog for not showing favouritism towards such a powerful company, it's been pointed out that the regulator's case report gave few details about how the offence was carried out.
Insider Traders Fined Less Than $10,000
It also failed to detail the profits made by the perpetrators, who in two instances were fined as little as $9,340, raising questions about the enforcement of insider trading rules by Thai authorities.
The Asian Corporate Governance Association (ACGA) is a non-profit group that works with investors, companies and regulators. Secretary general Jamie Allen said of the outcry: "This is unprecedented in Thai corporate governance. We have not seen domestic institutional investors show this level of public concern before about insider trading."
Rapee Sucharitkul, secretary-general of Thailand's SEC, also welcomed the outrage among investors, describing it as market forces at work. "Enforcement is very, very important. As you know in this country, one of the main criticisms has always been that people with privilege are able to get away with unlawful things."
Thailand Stock Market Suffers From CP All Insider Trading
Current regulations allow the SEC to impose criminal charges, the most common penalty being a fine. Those who can't pay and/or are involved in more serious cases are handed over to the police for further investigation and face a prison sentence of up to two years.
Statistics for 2009 to 2015 show that out of 47 cases of insider trading, eight criminal complaints were made. Two resulted in convictions, and one in a jail term.
Senior assistant secretary general Waratchya Srimachand has said the securities watchdog will launch stricter civil penalties for insider trading in Thailand by the end of this year. Under the new regulations, perpetrators could be fined, banned from stock trading or removed from executive positions in listed companies.
Until tougher sanctions are enacted – and, ultimately, enforced – investors and analysts warn that the Thai stock market will continue to suffer.
According to a report by the ACGA, corporate governance at Asian companies slipped between 2010 and 2014 after steady improvement since the 1997-98 financial crisis.
While some countries, including Thailand, had not fallen back, the overall picture was still a 'warning flag for investors'. "This is not only impacting CP Group, but also the overall Thai equity market," said Win Phromphaet, chief investment officer of CIMB-Principle Asset Management (CPAM).
Related:
* All US dollar conversions at current rates