Advertisement

Thailand consumer confidence continued to fall for a sixth conservative month in July, plummeting 12.5 pts to 98.3, well below its long-term average of 111.7 pts and a massive 25.1 pts or 20.34 per cent lower than one year ago when Thai consumer confidence stood at 123.4 pts, an ANZ-Roy Morgan survey has found.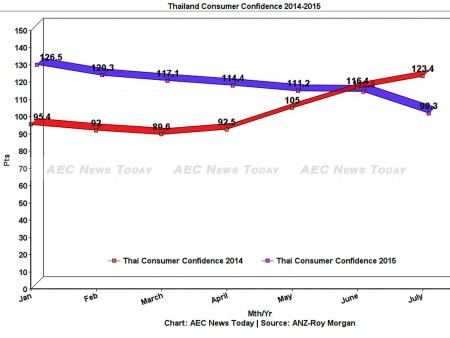 The survey, comprising one thousand respondents, were polled on five questions:
Would you say you and your family are better-off financially or worse off than you were at this time last year?
This time next year, do you and your family expect to be better-off financially or worse off than you are now?
Thinking of economic conditions in Thailand as a whole. In the next 12 months, do you expect we'll have good times financially, bad times or some good and some bad?
Looking ahead, what would you say is more likely, that in Thailand as a whole, we'll have continuous good times during the next five years of so – or we'll have bad times – or some good and some bad?
Generally, do you think now is a good time – or a bad time – for people to buy major household items?
Forty-seven per cent of respondents felt that their families were financially worse off compared with a year ago representing a 33.33 per cent fall in 'wellbeingness' since the beginning of the year and a 27.03 per cent drop in Thai consumer confidence from a year prior.
Although 42 per cent of respondents thought that they and their families will be financially better-off this time next year this is a fall of 26.32 per cent since the start of the year and 17.65 per cent YoY fall in Thai consumer confidence.

On the economic front only 39 per cent of respondents said they expect Thailand's financial conditions to be good over the next 12 months compared with 61 per cent in January and 68 per cent of respondents one year prior, representing a 36.07 per cent and 42.65 per cent drop respectively.
Unsurprisingly 74 per cent of respondents felt that now was not a good time to purchase household items, a 37.04 per cent increase in negative sentiment since the start of the year and a 25.42 per cent decline on one year prior when Thai consumer confidence was rising on the back of stability following the May 22, 2014 Thailand coup.
Thailand's Diminishing Export Market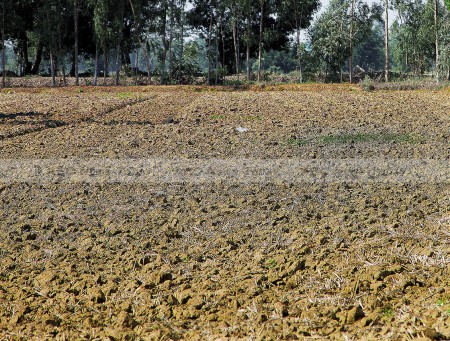 The depressing consumer confidence figures come on the back of the release of 2015 half-year trade figures by the Thailand Ministry of Commerce (MoC) which showed that Thailand exports tumbled by 7.87 per cent YoY in June, bringing the total contraction in Thailand exports for the first six months of 2015 to 4.87 per cent.
As a result of continued soft consumer spending and poor export performance Thailand's Ministry of Finance (MoF) earlier this week revised downwards its already amended previous 2015 Thailand GDP forecast from 3.7 per cent to 3 per cent.
Somkiat Triratpan, director of the MoC's Office of Trade Policy and Strategy, said Thailand exports for the first half of 2015 were US$106.86 billion, while imports totalled 103.38 billion leaving a trade surplus of $3.47 billion.
Amongst the most affected is Thailand's agricultural sector which employs about 42 per cent of the Thai labour force. Suffering the effects of a prolonged drought that has seen rice crops, fruit and vegetables wither or not planted due to a lack of water, agricultural sector exports fell 4.1 per cent in June, though rubber exports increased 4.4 per cent, the first upturn in 18 months.
According to Thailand's Office of Agricultural Economics (OAE) farm income from major crops fell by 4.2 per cent in the first six months.
Lersak Riewtrakulpaiboon, OAE secretary-general said that in the first half of the year the drought had had contributed to agricultural exports plummeting by 9.4 per cent, with the Thai agricultural sector economy expected to contract by up to 4.3 per cent this year.
Related: