Advertisement

On December 31 the ten members of the Association of Southeast Asian Nations (Asean) are expected to live up to their plans of establishing an internationally-recognized multi-country economic community based on free trade – the Asean Economic Community (AEC). But troubling signs are emerging following this week's economic ministers' meeting in Kuala Lumpur, Malaysia.
This was the 47th meeting of this group pivotal to the success of the planned AEC and while 'feel-good' press releases flowed from the meeting that concluded on Tuesday, a significant backward step that took place on Saturday went largely under-reported.
As home to the world's largest Muslim population in addition to being the largest economy in Asean Indonesia has considerable 'muscle' and since the election of Joko Widodo (Jokowi) as president last year it has not been shy in flexing those muscles – especially if it plays to conservative, nationalistic forces within the country – to the point that it is starting to garner for itself a reputation for being somewhat of a bully. The much publicised destruction of fishing boats from fellow Asean member countries caught operating in its waters illegally being one example, with the other being the execution of drug traffickers while paying blood money and lobbying to have its own criminals released from foreign jails.
Last Saturday Indonesia took this muscle flexing a step further by coercing its fellow Asean member nations into abandoning the concept of an Asean free trade zone and agreeing to apply tariffs to imported alcoholic beverages, along with rice and sugar, once the AEC comes into effect at the end of the year.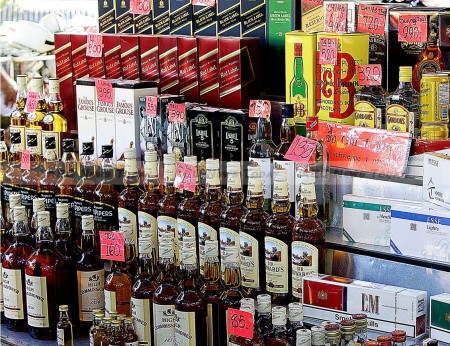 While the imposition of a tariff on imported rice and sugar are more easy to understand, the two being major commodities in several Asean countries (Thailand is the top rice-producing country in the world) the imposition of tariffs on alcoholic beverages is another story.
While newly sworn-in Indonesian Trade Minister Thomas Lembong earned some kudos from conservative factions at home with his announcement that the other Asean member nations had agreed to Indonesia's lobbying that alcoholic beverages will be excluded from tariff exemption on the grounds of national security and public morals, to others the decision was nothing short of bullying and further evidence of rising Islamic conservatism and religious intolerance in Asean's most populated member nation.
While followers of Islam, who consider consumption of alcohol to be a sin, will account for about half of the AEC population upon its formation and Buddhists, who also shun the consumption of alcohol will make up the bulk of the rest, the decision to impose a 'sin tariff' and profit as a result can only be viewed as hypocritical at best. It also ignores the large Christian and Catholic communities in the region, in particular those in the Philippines for whom altar wine is an integral part of the Catholic Mass.
It is sad to see such intolerance of others' beliefs penetrate the workings of the AEC group and it portends of many difficulties to come, especially with China, Japan, and South Korea who comprise the Asean Plus Three (APT) group, or the even more diverse Asean Plus Six (APS) which includes Australia, New Zealand and India.
While the Asean-led Regional Comprehensive Economic Partnership (RCEP) will see tariff reductions of up to 65 per cent on goods when it comes into force the six additional members comprising the APS aspire to see 80 per cent of tariff lines reduced to zero-rated in 10 years.
It's difficult to comprehend any of these nations, especially Australia and New Zealand who are important wine-exporting countries to Asean member nations, willingly agreeing to a system that imposes 'sin tariffs' under the thinly veiled description of being necessary for national security and public morals reasons.
Indonesia needs to remember that there are other countries in the region that are not Muslim, while Asean as a whole needs to look further afield than its short-term plans for the implementation of the AEC. After all, even after its implementation the AEC will still only be the seventh largest economic community globally.
In the meantime those who will fall under the AEC at the end of the year and who like a tipple of something more up-market than the dubious quality locally produced spirits and wines will need to dig a little deeper into their wallets, because Indonesia's national security and morals can only be protected if people pay more and the government gets its cut.
Related:
The following two tabs change content below.
David graduated from Georgetown University's School of Foreign Service. He worked previously at the
Bangkok Post
was a regular contributor to the
Thousand Islands Sun
, a print-only weekly in New York State, and to the
Bangkok Post
letters section.
David has a broad knowledge of wine and of the regional alcohol industry.
Vale: David died on or around December 25 or 26, 2021 after drowning in a Bangkok canal. His death is not regarded as suspicious.
Latest posts by David Swartzentruber (see all)